Posted in: Comics, Comics Publishers, Comixology, Marvel Comics | Tagged: jason aaron, Jesus Saiz, marvel, Paul Azaceta, punisher
---
The Legacy Of The Punisher On The Marvel Universe (Spoilers)
The current Punisher series by Jason Aaron, Jesus Saiz and Paul Azaceta has been a rather remarkable one, set amongst Marvel and Disney turmoil.
---
The current Punisher series by Jason Aaron, Jesus Saiz and Paul Azaceta has been a rather remarkable one, set as it is amongst Marvel and Disney turmoil over how to handle the character as some of the worst elements took the imagery to themselves, while others used it for rather inappropriate means. Now, with the publication of Punisher #12, out today, Marvel Comics has given Frank Castle a new future (spoilers).
But he has also left a legacy behind him. Courtesy of The Hand and Doctor Strange, we now have a very living Maria Castle, divorcee of Frank Castle, unfridged, with her own life to lead. Maybe a new name as well. But she brings the legacy of Frank Castle with her, quite literally.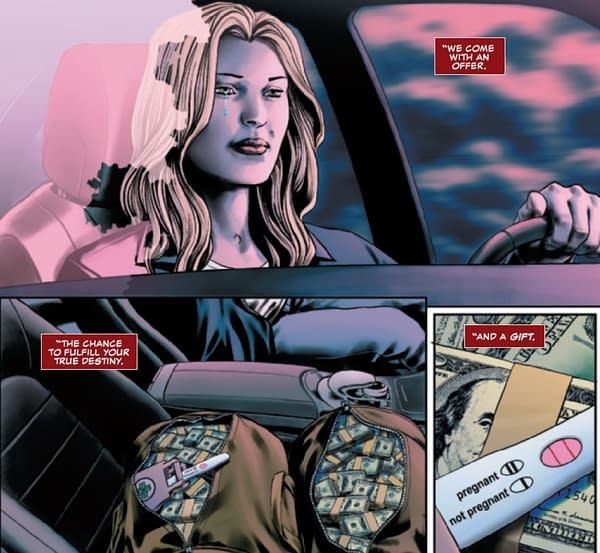 Looks like we have a Baby Frank Castle on the way. While The Hand has moved on from Frank Castle to find its next victim to turn into The Fist Of The Beast. And, one whom it has had its claws sunk into for some time, it seems.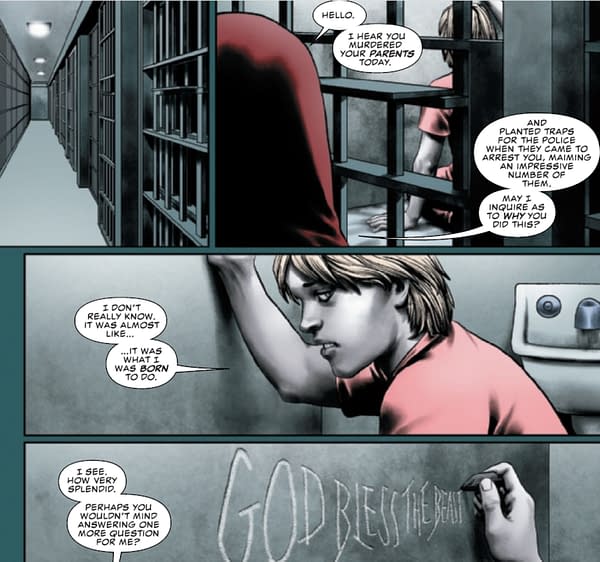 While Frank Castle is somewhere far, far away. Another dimension with tangential links to our own, finding a new role as a Protector rather than Punisher. How long will that last? Five days in, it is no longer a War Journal..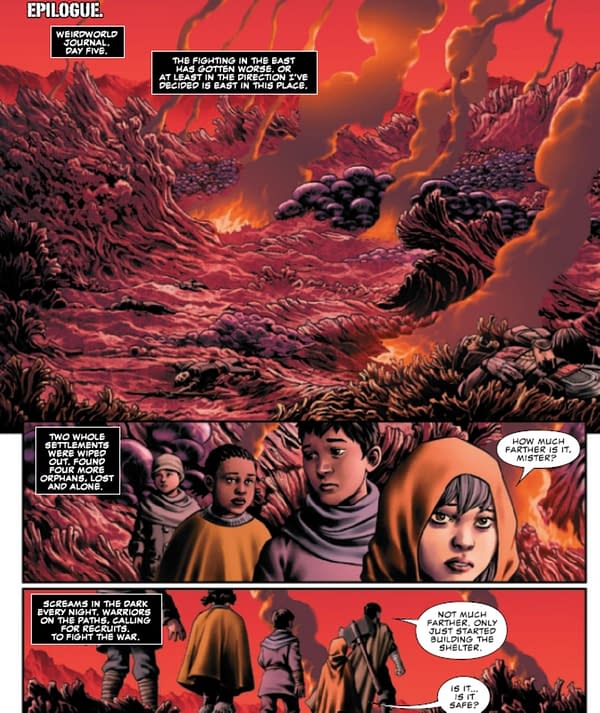 And Jason Aaron talks about his own relationship with The Punisher as this series comes to an end. Bleeding Cool has covered increasing criticism of the use of the Punisher skull by police, army, militia, white supremacist groups, QAnon events, and Sean Hannity on Fox News, even Trump Punisher pins have been popular. And then during the January 6th Insurrection at the Capitol building in Washington, many Punisher skull insignias were seen. This also followed Black Lives Matter protests and a focus on real and fictional police behaviour, including the use of Punisher imagery by the police. Amidst calls for Marvel and Disney to cancel The Punisher as a character, Bleeding Cool observed that this may have happened already and that there had been no published or solicited Punisher comic books since November 2020. There was a collection of Punisher Vs Barracuda – but that series was never completed. It was initially postponed by the pandemic but then abandoned altogether, despite completed issues having been completed. In July last year, Bleeding Cool ran the news that Jason Aaron was to reinvent The Punisher for a new age, adding the headline story "Jesus Saiz and Paul Azaceta Join Jason Aaron on Punisher No More". Then we ran the official news that Jason Aaron, Jesus Saiz, and Paul Azaceta were launching a new Punisher series in March 2022. A year later, it has all come to pass and Jason makes comment…

PUNISHER #12
MARVEL COMICS
MAR230875
(W) Jason Aaron (A/CA) Jesus Saiz
PUNISHER… NO MORE.
Rated T+In Shops: May 31, 2023
SRP: $4.99
---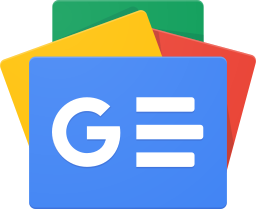 Stay up-to-date and support the site by following Bleeding Cool on Google News today!