The Walking Dead Debut From 1954 in Web of Evil, at Auction
The Walking Dead comic you might not know is taking bids at Heritage Auctions today. One of the cooler pre-code horror covers.
---
The Walking Dead is not just the one you know. Way back in 1954, before there was a Comics Code, before the world knew what a Spider-Man was, there was another story called "The Walking Dead," and it was published in Web of Evil #12 from Quality Comics. This is rare air here, this is not something you are just going to happen across all that often. But the five stories inside the covers of this book are some of the finest pre-code horror stories you will feast your eyes on. I have myself flipped through this before, one of my first days working in my shop, and was nervous just turning the pages. That copy didn't hold a candle to this one, taking bids at Heritage Auctions today, along with several other issues of this underappreciated series. For a measly $32 as of this writing, you can own it. Check it out below.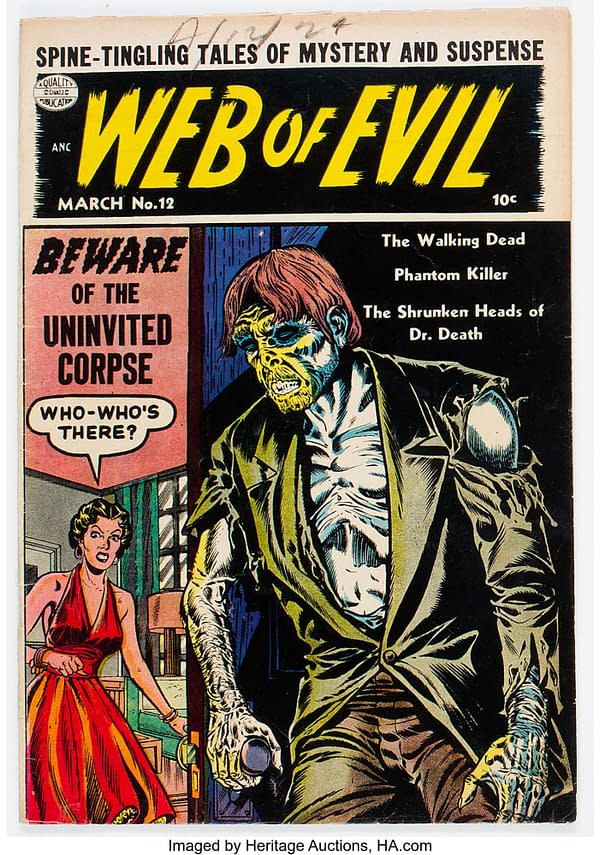 The Walking Dead Alright
Web of Evil #12 (Quality, 1954) Condition: VG. Charles Nicholas art. There is some light staining on this copy. One of just a handful of copies we have seen of the zombie-covered issue. Overstreet 2022 VG 4.0 value = $72. "The Walking Dead," pencils by Charles Nicholas; Show promoter Carl Lamont travels to an island in the Caribbean to capture the fabled giant zombie of Zaku, none other than Zog, king zombie; Lamont succeeds in luring Zog into a trap, hauling him to the US and putting him on display in his circus show. "The Uninvited Corpse"; Alice is married to John Carlton, but her lover, Guy, kills her husband; The evil couple rejoices and starts enjoying life when dead Carlton drops by. "The Phantom Killer," pencils by Sam Citron; A demolition crew is ordered to tear down an old playhouse of horror; Some of the workers are attacked and killed in the process. "The Curse of Sika" text story. "The Shrunken Heads of Dr. Death," pencils by Edward Goldfarb; In the Amazon jungle, the suit-wearing crackpot Dr. Death lives with his pet monkey Bola and witnesses the crash landing of a passenger plane; The mad doctor kills off all survivors and adds them to his collection of shrunken heads. 36 pgs., full color. $0.10. Cover price $0.10."
As I read more and more pre-code horror, it occurs to me that we may never get back to these types of stories. Books like Creepshow try, but they don't really resonate the way these old stories do. These stories fill you with dread and feel so lifelike when you read them, and that is hard to do today. Everything is over the top and lacks substance. That is not the case here. "The Walking Dead" is fantastic, and Web of Evil #12 is well worth your time if you are a fan of horror or a collector.

Affiliates of Bleeding Cool buy from and/or consign to Heritage Auctions.