Thought Bubble and San Diego Comic-Con Together For Comic-Con@Home
British comic book convention much beloved of Bleeding Cool, Thought Bubble, is teaming up with San Diego Comic-Con to deliver online content to each other's respective online offerings this year. I am a big fan of both, so this is all digital gravy for someone like me.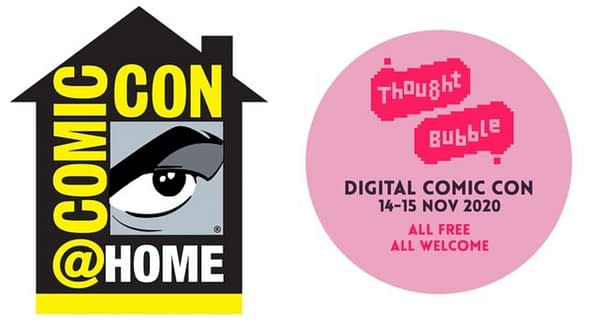 The first will be Thought Bubble & Comic-Con@Home: Tula Lotay in Conversation features Laura Jones from San Diego Comic-Con interviewing Thought Bubble founder Lisa Wood (also known as artist Tula Lotay) about how she got started in the industry, how and why she created the show, and how the two shows will work together in the coming months.
And then in November, the shows will reciprocate for Thought Bubble's online comic arts festival. Could there be more collaboration to come after lockdown? Here are some official quotes:
Chloe Green, Thought Bubble Festival Manager
"Having San Diego Comic Con, such a huge name in the comics industry, team up with Thought Bubble is really exciting! The SDCC and Thought Bubble teams are really like-minded, we both pride ourselves on our educational programme and theirs is looking exceptional this year! This collaboration means we can reach so many more comic fans and budding creators. It's really awesome. We can't wait to show you all"
David Glanzer, CCI's Chief Communications and Strategy Officer
"The affiliation of Thought Bubble and Comic-Con was an idea too good to pass up. The thought of teaming up with such a well-respected organization is exciting on so many levels, chief among them is how fans will benefit from the proposed programming. Their reputation, their dedication and their execution of events that highlight the very best of comics art was a natural fit as we team up, from both sides of the Atlantic, to highlight new and exciting aspects of this popular medium.
Will any other shows create such synergy in the coming months? Being separated by an ocean in terms of competition, and one not being ReedPOP probably helps.