Today, Marvel Comics Kills One Of Its Oldest Characters. Permanently. (SEMI-SPOILERS)
Okay, so let's say I wasn't expecting that today.
But I'm not even going to spoil what happens in this comic.
Or rather I'm spoiling what happens but not who to. Or where. I'm even going to give some spoiler space to what comic book this happens in, because some folk won't even want to know. And fair enough. I can respect that. Okay, so it's in today's spin-off of the Original Sin crossover, Original Sins #5.
I mean, spin-off mini-series like this aren't meant to actually change anything. They exist as as support. A back-up singer – one of many. They stand there, look pretty and fill in the bits. While you wait for the one you actually want to sing, to sing.
But today, Marvel Comics kills off one of the oldest and much loved characters in the Marvel Universe.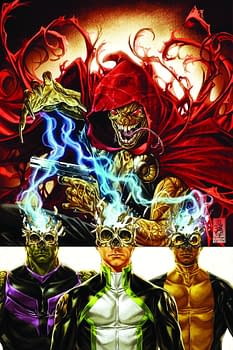 And it kills the characters off in a stone dead way that means that they just can't come back. And even if they did you'd expect that they hadn't really.
It's cruel, it's harsh, it's demeaning and dammit if you aren't going to want to rip it to shreds. Especially if you've been reading Marvel comics for a long time.
Expect abrupt explosions regarding this across the internet all day as various people read it for the first time.
But no, I won't be spoiling it here.
Dammit. Maybe later in an update.
Much later.
Comics courtesy of Orbital Comics, London. Currently featuring the Lords of Infinity exhibition, with the works of Cristian Ortiz, Andy Poyiadgi and James Harvey, running until September 7th.