Todd McFarlane to Get Guinness World Records Award at NYCC For Spawn #301
We saw that Spawn #301 was printed last week. And with that, Todd McFarlane has officially earned the Guinness World Records title for the longest-running creator-owned superhero comic book series for his creation of Spawn.
"Any record that is based on longevity, is made on the backs of dozens of people. As much as I am proud to be receiving this award, I gratefully accept it on behalf of all those who helped me the past 27 years on this journey" he said.
Fans are invited to witness McFarlane receive his official Guinness World Records certificate this week at New York Comic Con. The ceremony will be taking place on Saturday, October 5th prior to Todd McFarlane's very own panel, The Road to Historic Spawn #300 and #301. The panel will be taking place in Room #1A10 from 5:45- 6:45pm. And maybe you'll be ab;e to get a Spawn #301 early.
Guinness World Records adjudicator, Claire Elise Stephens, will be presenting McFarlane with his award. "I'm incredibly honoured to be presenting this Guinness World Records title to McFarlane in honor of Spawn #301 at an event that celebrates creators with such enthusiasm. Todd McFarlane displays immense passion, a key value of our mission and this achievement is a recognition of Todd's nearly three-decade career" she is quoted as saying.
You know, they never gave Dave Sim an award for Cerebus reaching #300. Maybe Sim should retroactively rename and renumber Following Cerebus and the Cerebus In Hell one-shots to snatch victory from Todd McFarlane's hands…
Spawn #301 will be in comic stores from October 9th, the Wednesday after NYCC.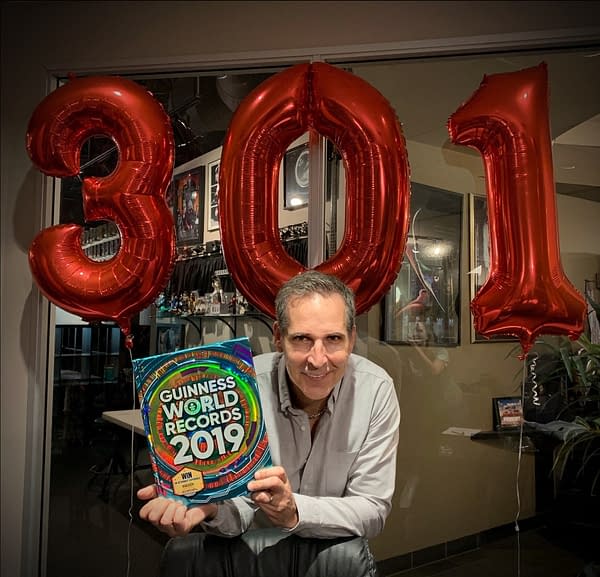 SPAWN #301
(W) Todd McFarlane (A) Greg Capullo, Jason Shawn Alexander, Clayton Crain, Jerome Opena (A/CA) Todd McFarlane
TODD McFARLANE returns to pencil and ink SPAWN #301-with GREG CAPULLO, JASON SHAWN ALEXANDER, CLAYTON CRAIN, JEROME OPE A, and FRANCESCO MATTINA, and even more surprises to come in the record-breaking, longest-running creator-owned comic book in history! In Shops: Oct 09, 2019
SRP: $4.99