Philip Sevy writes for Bleeding Cool:

It's dark. It's snowing. Enemies are all around you. You're lost. You're exhausted. And the snow keeps coming. Up ahead is an empty house. A shelter. A refuge.
Do you go in?
The House is a critically acclaimed 7-issue horror series that follows a squad of US soldiers in the Battle of the Bulge during World War II who get lost in the snowy woods. As the storm becomes worse, they happen upon an abandoned mansion that they take refuge in. But once the door closes, they begin to notice that things aren't right. As night falls, they realize that they may be in more danger if they stay, but when they go to leave, the front door is no longer there. Then things get worse from there. Created by Drew Zucker and Phillip Sevy (with fantastic colors by Jen Hickman and amazing letters by Frank Cvetkovic), The House is a culmination of seven years worth of work. Released in 2017 via Comixology's Submit imprint, The House garnered rave reviews and rabid fans. Now complete, this campaign is to seek funding to independently print and publish the story in physical form. The softcover collection will be 166 pages in length.
So that's the polished pitch. Here's the nitty gritty…
In 2010, at NYCC, I met Drew Zucker (Skybreaker, FUBAR) while we were both lugging portfolios around – bright-eyed kids with bad artwork. (We've gotten better since then) We became friends and started chatting online after the show. A few weeks later, Drew hits me up with "Hey, do you write?" At the time I felt much more confident with my writing ability than my art skills. Drew had an idea that he wanted to develop and needed a writer. He sent me a few short sentences about some WWII soldiers getting trapped in a haunted house. I was hooked.
A few weeks later, I sent him a 6 page outline for a 144 + page psychological horror graphic novel.
And we were off.
We spent the next year writing the first draft.
Then another year polishing it and putting together a pitch.
Then a year of circulating the pitch. It came close but didn't find the right home.
Then another year of rewriting it.
It was late 2014 and we were talking about the project when I finally said, "You know what, I'm tired of waiting for permission to make comics. Let's just do it and put it on Comixology."
Then nearly three years of drawing, coloring, and lettering it.
Through the years, there were many times we didn't know if it would ever see the light of day. But man, we sure wanted it to. It was a passion project that burned bright through the better part of a decade that we spent working on it.
Releasing through Comixology was exciting and a great way to begin to reach out and engage comic book and horror fans. The response was great and the reviews were fantastic (and humbling). We knew our project would find its audience if we produced it – and it has.
But a drawback to digital comics is that even though anyone can access them, a lot of people still prefer physical books and don't spend hours browsing through the independent release section of Comixology.
So Kickstarter was our next step.
And this is where you come in. All seven issues are complete and finished. This campaign is to raise funds to print a softcover collection. We don't have any production to fund – we just want to get this book into the hands of current and future fans.
In addition, exclusive to this collection, we're creating a new six-page short story that follows fan-favorite character Ethan Wilde.
We're also including a pinup gallery of House art from acclaimed artists Ariela Kristantina (InSEXTs, Wolverine), Roberta Ingranata (Witchblade), Jorge Corona (We Are Robin, Goners), Morgan Beem (The Family Trade), and more! We've got a great assortment of rewards for backers of all levels – from digital copies, to the print book, to sketch editions, commissions, original art, and even a chance to be drawn into the new short story.
And exclusive to Bleeding Cool readers, we've added a discounted rewards tier for this week only – instead of the $20 pledge for the book, you can get it for only $15! We hope you enjoy the book as much as we have over the last seven years (have I mentioned that enough times yet?). It's something that is very personal and special to us. Thanks for spreading the word and supporting the campaign!
And here's a preview of the first issue!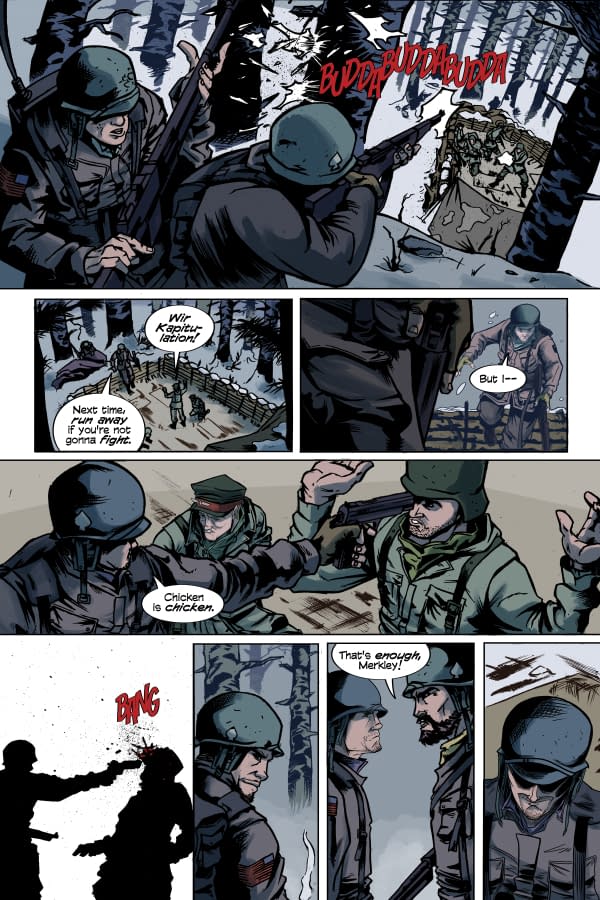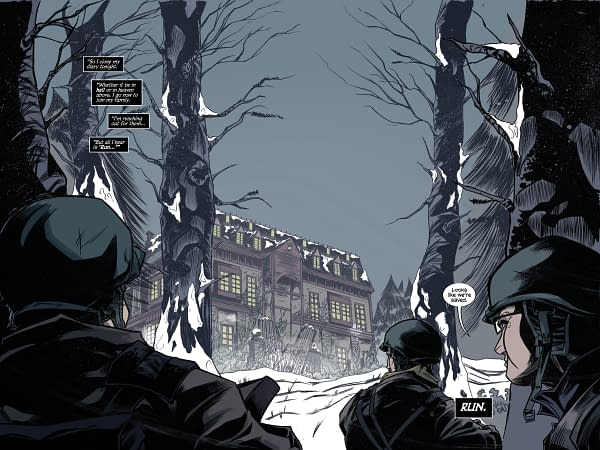 Enjoyed this article? Share it!