Valiant High #1 Advance Review: A Too-Conventional Superhero High School Dramedy
What if the Valiant Universe took place in a high school? What if all the heroes were students, with Bloodshot as the coach, Dr. Mirage as a teacher, and Harada as the principal? What if Livewire were just an ordinary girl with extraordinary powers just trying to survive the experience? That's the starting point of Valiant High.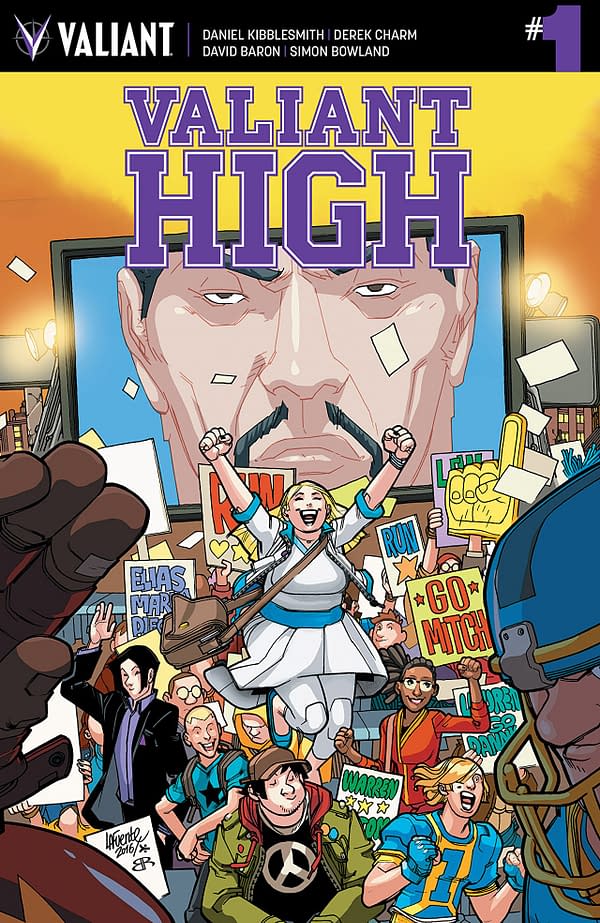 And… well, the idea has its charms for sure. The more comics that have Faith Herbert/Zephyr in them, the better. The drawback is that this comic is buried in typical high school drama tropes. There are the jocks, the nerds, the losers, and the scary principal, and the coach overprotective of his football team.
There is a joke in seeing which characters get assigned which role, but it does feel like characters like Aric, Bloodshot, Eternal Warrior, and Ninjak are being pushed and crammed into their respective roles. Plus, the joke only works once. After that, you're just going to be left bored.
Livewire especially feels like she isn't being done justice. She is a confident and powerful superhero, and here, she is a super self-conscious and nervous high school girl like many others.
Don't get me wrong — there are charms. Some lines are funny, and Faith brightens every scene she is in. However, characters like X-O Manowar and Bloodshot just annoy with the way they're played here.
Derek Charm's artwork largely fits the story well. The characters are given clever visual redesigns, and the overall aesthetic is airy, cartoonish, and charming. Sometimes the lines are too light for their own good, such as when Faith's mouth outright disappears. David Baron's color art is bright, saturated, and almost pastel at times, and it works mostly well. Sometimes colors blend together, but that's the only flaw. Most of the comic looks great.
Valiant High #1 is a cute idea, and it could have worked out better than it does. However, the characters are simply crammed into generic high school drama/comedy roles, and the reader is left to be bored with how traditional the plot and execution really is. The art is quite good, but it doesn't save the narrative. It is funny at times, and Faith is as endearing as ever. It's not so bad that I must say away, but I can't recommend it either.