Vengeance of Vampirella Covers The Spice Girls' #2 Become #1…
It's weird how The Spice Girls' single 2 Become 1 has become a recurring Christmas pop song, by dint of shoving some snow on the video. Anyway, this is Vengenace Of Vampirella's attempt to muscle in on that territory. Somehow it slipped Dynamite editorial's that the Ben Oliver cover for Vengeance of Vampirella #2, published on November 6th had a #1 on it as well as a #2.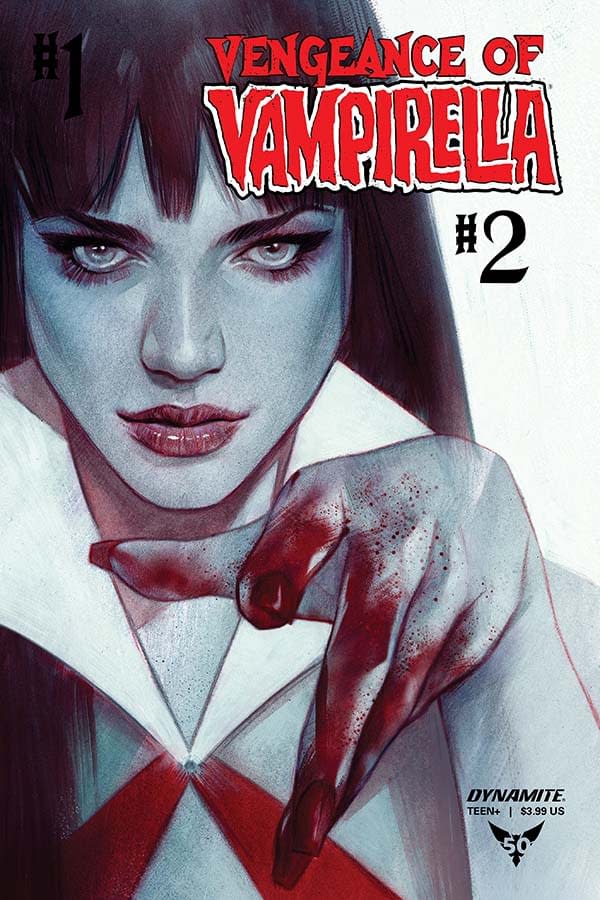 Hard to see, it's in the top left-hand corner, hidden in the hair.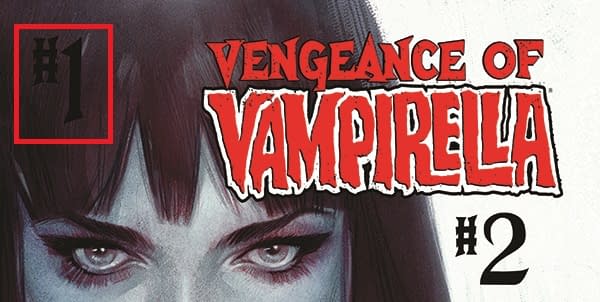 Dynamite has been approaching retailers with options regarding making it returnable if that's an issue. Vengeance of Vampirella #2 is out this Wednesday, and hopefully it will have the right numbering on it. Sometimes accidents create variants. The infamous 'Blue Lizard' version of Todd McFarlane's Spider-Man #1 was down to Marvel publishing so many copies of it that at one point the yellow ink ran out and no one noticed for a few thousand copies. Venom #1 'Black webbing' edition was down to the cover foil running out – and some people were able to use hair dryers to melt the foil off, create their own variant, and sell it for a lot more money. And there are plenty of withdrawn comics over the wrong UPC code, or the wrong swear word being used as well.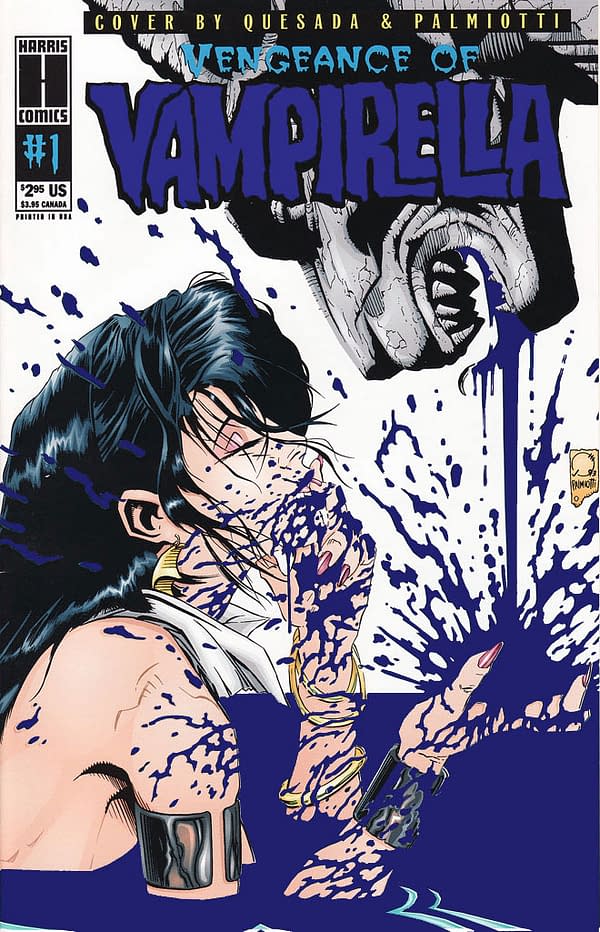 The original Vengeance Of Vampirella #1 published by Harris featured a wraparound Joe Quesada cover, enhanced with foil. By default, the pool of blood and logo were of course red. But different foils were applied for more limited variants. Including aquamarine, gold, and blue. The blue was actually an "accident" due to the printer running out of the other foil they were supposed to be using. This seems to be a theme. Fans were intrigued by these and the blue foil quickly became a tradition in the Harris era for collectors. After that, Harris used the blue foil on the following books:
Vengeance of Vampirella #25
Vampirella Zero
Vampirella/Painkiller Jane
Lady Death vs Vampirella
Vampirella "The New Monthly" #1
Purgatori vs Vampirella
Lady Death vs Vampirella II
Vampirella (2001) #1
Vampirella/Witchblade: Brooklyn Bounce
Witchblade/Magdalena/Vampirella
Could there be any chance that this double-numbered new Vengeance may build up a similar mystique? Will Dynamite start putting #1 as well as the comic's own issue number on random issues? Or will Dynamite revive the blue foil for its Vampirella books?