Bex Cook and Dan Oakley write for Bleeding Cool with photos by Joseph Kyle Schmidt:
The Vertigo panel this year was packed with details of current and upcoming releases, a large parts of which was taken up with Fables content, the comic not having its own panel this year and it's creator Bill Willingham being absent from SDCC Altogether.
Diving straight in:
– American Vampire Anthology, out 7th August, including work by the likes of Greg Rucker, Becky Cloonan, Jeff Lemire and Scott Snyder. The collection will include stories using already established characters as well as new creations to the American Vampire mythology.
– The Wake, by Snyder and Shaun. E. Murphy. We were treated to covers from the upcoming issues of the sci-fi adventure series.
– Trillium, issue 1 out August the 7th, a sci-fi love story with World War 1 flashbacks, with Jeff Lemire writing and providing beautiful water colour artwork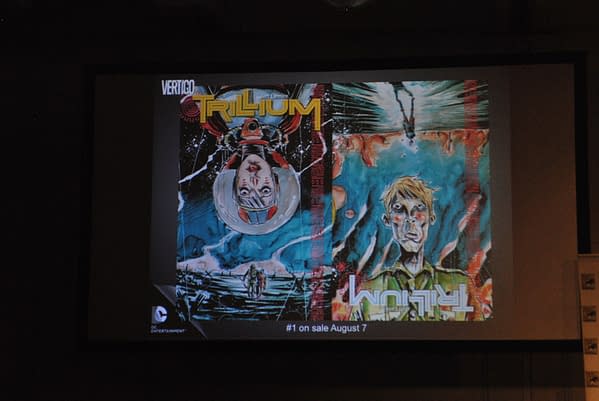 – There was a lot of Fables information in this panel with the cover of issue 134 being the big news. The cover shows Bigby and Boy Blue together, something that Mark Buckingham promised was not a dream sequence and that seemed to show the return of fan favourite Boy Blue to the Fables universe. Bill Willingham is taking a year off from Fables SDCC but will be finishing the upcoming Fairest in the Land graphic novel, a murder mystery tale told by the Magic Mirror, to be released in November. One of the upcoming arcs in the main Fables title will revolve around Rose Red finally taking up the mantle of a Paladin of Hope and deciding that she is to rebuild Camelot and the round table of ancient myth. Other Imminent Fables releases include the Fables Encyclopaedia, out on October 23rd, the continuation of the Fairest title and the highly collaborative Fables/ Unwritten crossover event.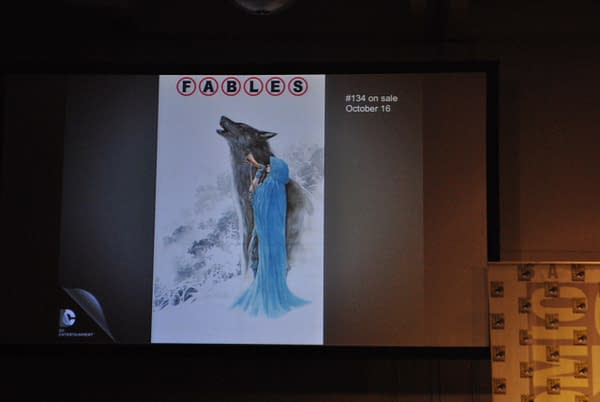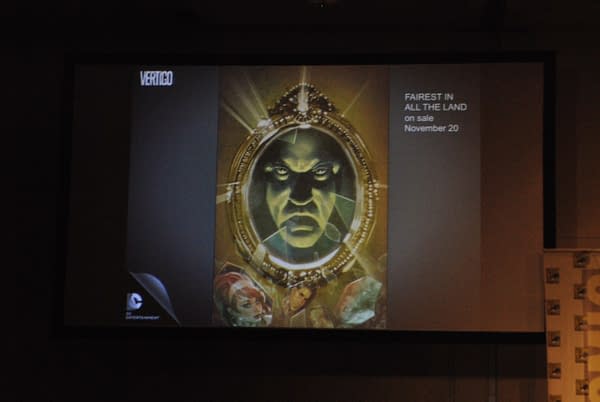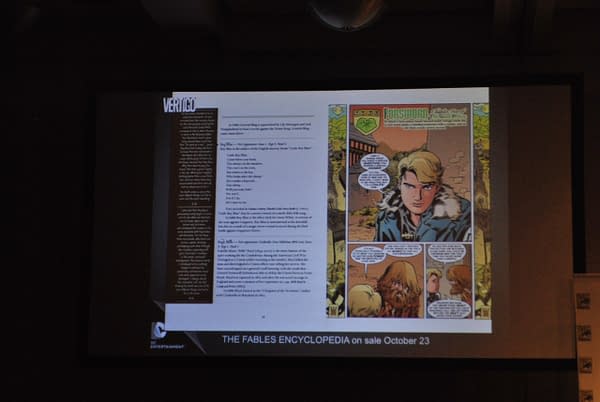 – The Dead Boy Detectives, from the pages of Sandman, will be getting their own on going series starting in November. This series will finally give the Boys an ongoing narrative rather than just one off cases and will introduce new characters such as one named Young Girl Detective.
– Collider, out July 31st, written by Simon Oliver with art by Robbi Rodriguez, which looks at what would happen if the laws of physics were broken. The Federal Bureau of Physics (FBP) investigate when physics goes wrong, with the example of gravity failing in just the local area of a school being given.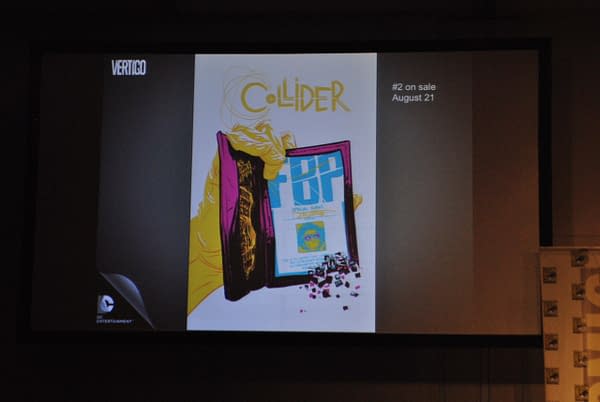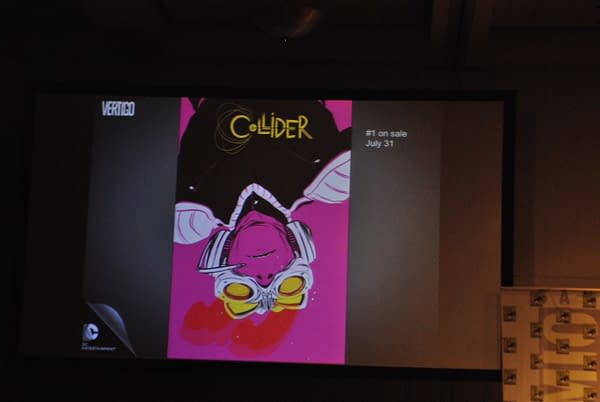 – Coffin Hill, October 9th, dark, provocative supernatural series, written by author Caitlin Kittredge.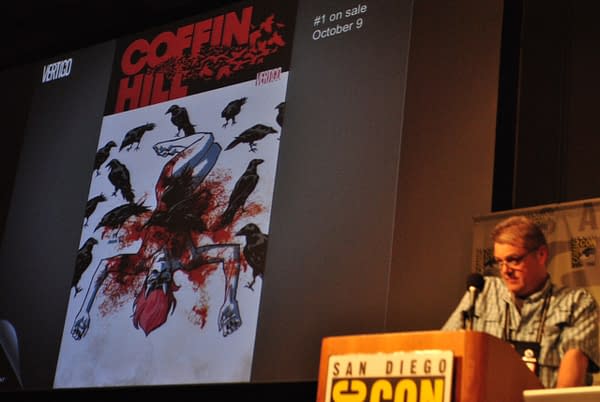 – Hinterkind, set in a future where the Earth has reclaimed itself following some disaster. Small pockets of humanity still exist but find that when they venture out fantasy creatures have reappeared on the planet. This was described as developing into an epic sweeping story of clashes between tribes.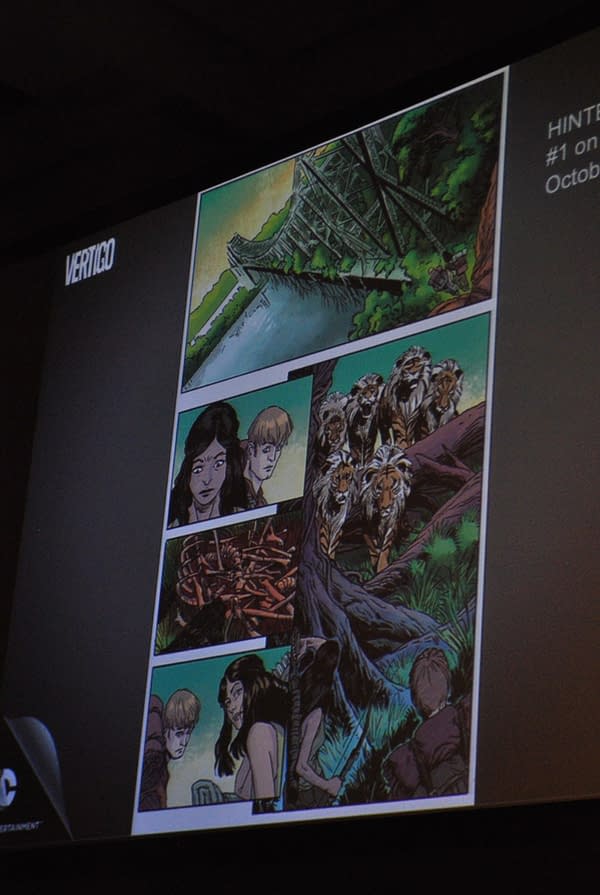 – The Discipline, written by Peter Milligan, a thriller/ adventure that explores dark, sexual themes.
– Suiciders, set in a dystopian future in which L.A. is forced to create a new form of entertainment in order to survive following some form of disaster. Featuring bold, energetic artwork and a gritty style.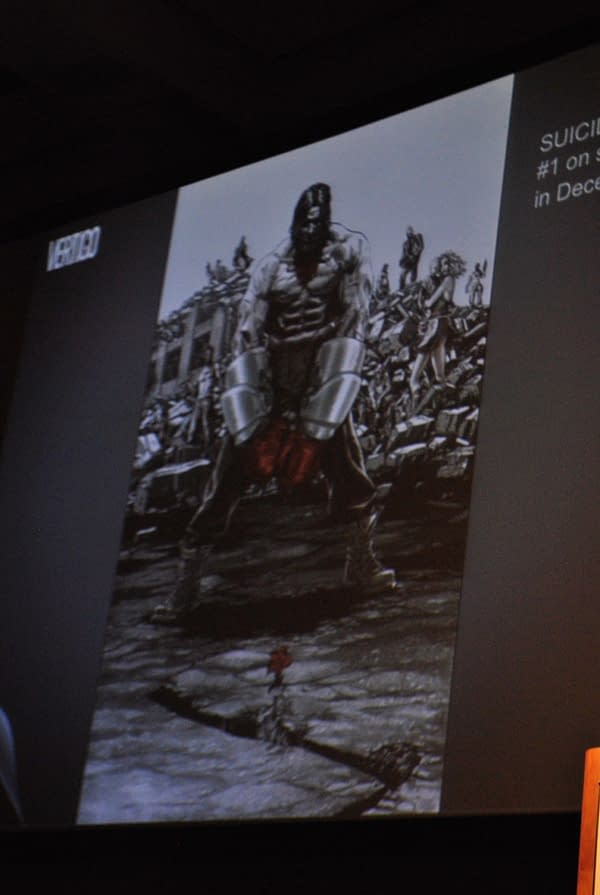 – Brother Lono, a return to the world of 100 Bullets. The same creative team take Lono to the next level as he tries to reign in the tendencies he's spent so long developing.