Watch Peach Momoko Draw Horizon Zero Dawn SDCC Variant
Following their announcement of Horizon Zero Dawn comics, which will serve as a sequel to the popular PS4 game, Titan Comics have released a video of artist Peach Momoko crafting the cover to the first issue. Joining the ranks of Archie Comics, who have created a simply wonderful YouTube channel featuring behind-the-scenes content and art process videos, Titan comics spotlights Momoko's creation of this beautiful cover in honor of Comic-Con@Home. You can watch the cover turn from sketch to a beautiful, finished painting right here.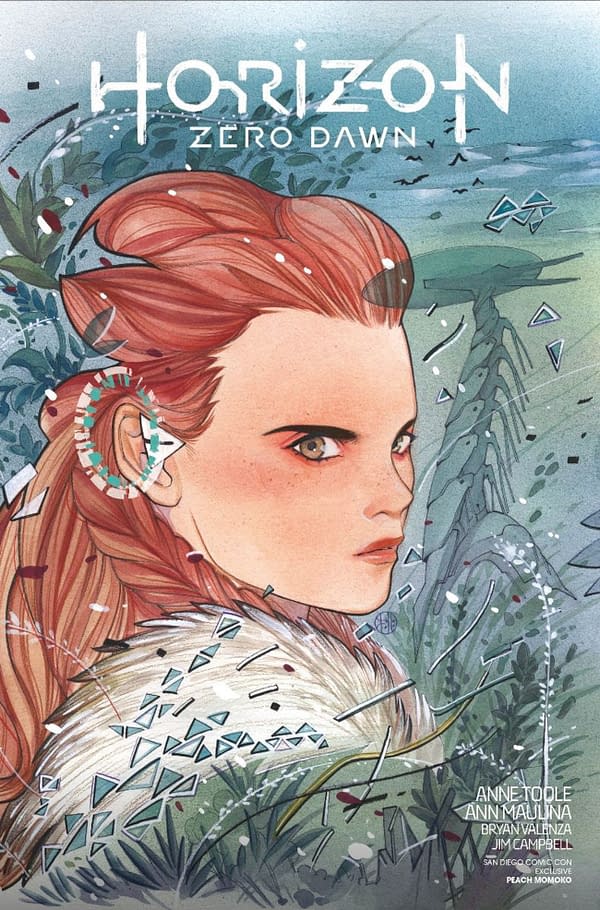 Titan Comics will reveal more about their upcoming Horizon Zero Dawn comics at their Comic-Con@Home panel tomorrow. In their press release for the event, they wrote:
You can join the story too at this year's Horizon Zero Dawn Comic SDCC@Home panel, where the creative team behind this hotly-anticipated comic book launch — writer Anne Toole, artist Ann Maulina, Guerrilla narrative director Ben McCaw, principal artist Gilbert Sanders, and Guerrilla studio director/art director Jan-Bart van Beek — discuss bringing the critically-acclaimed Horizon world to this illustrated medium. Follow this link on Thursday July 23 to watch the panel live and learn more about Horizon Zero Dawn: The Comic Series.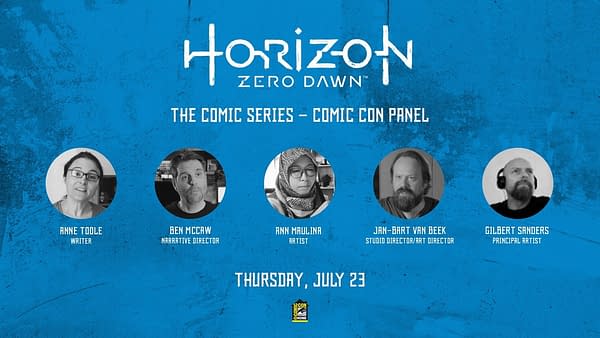 Peach Momoko brings a painterly touch to the comic, which continues the story of Gurerilla Games' popular RPG. The events of the comic will follow the hunter Talanah, who finds herself on her own when her ally, Aloy, goes missing. What follows is a journey of self-discovery, challenges, and killer machines. Fans of the game won't want to miss this tale, but as someone who never played but loves a good comic… this art is looking mighty good.
Peach Momoko's cover is a Comic-Con@Home exclusive, and you can avoid what have would surely been a long line of customers and a guaranteed case of history's absolute worst con crud by ordering them online. Horizon Zero Dawn fans from the UK and Europe can acquire their copy of the exclusive edition here, while readers in the United States, Canada, and everywhere else can get it here before it is sold out. After the show, the first issue will come to stores in August 2020 from Titan Comics.