Earlier today, Bleeding Cool broke the news that Tom King's Batman run will end at issue 85, with King being removed from the title by DC Comics, not by his own choice. The news is shocking not only because King has long said his run will be 100 issues long, but also because he only recently revealed plans to radically change the character, a move that DC and parent company AT&T were apparently on board for. Did someone change their mind? Are Batman's declining sales through the Knightmares arc to blame? We don't have any details on the cause, but following King thanking fans for their support earlier today, Mitch Gerads, the artist on Mister Miracle alongside King, took to Twitter to put a different spin on the news: that it's actually going to lead to better things.
I know things about a thing and it all means even better things. pic.twitter.com/q5YFi29OUP

— Mitch Gerads (@MitchGerads) May 22, 2019
So what does Mitch Gerads know? We have no idea, but we can take some guesses. Keep in mind that, while Rich Johnston's report earlier today was well-sourced, the following is complete speculation on our part. Without any further ado, here's the Top Five Things Mitch Gerads Knows About the End of Tom King's Batman That Will Lead to Even Better Things:
(Some Heroes in Crisis spoilers down below in #5, so click away if you don't want to read them.)
1. Tom King hasn't been fired… he's actually been recalled by the C.I.A. to finally end terrorism once and for all, and the firing is a cover story so the terrorists won't see it coming.
2. It's not that Tom King's Batman run is ending, but it is getting relaunched because those big changes King teased for the character are that Batman will lose his memories and begin going by the name Ric Wayne.
3. King really is fired, but Gerads is the one taking over the book to write his dream 12-issue Riddler series, and he doesn't mind throwing his Eisner-winning Mister Miracle buddy under the bus.
A 12 issue BATMAN series that's the smartest Riddler mystery thriller ever told. Something super well planned out full of wild smart twists and turns. The DA VINCI CODE of Batman stories.

I'm cheating though and I still want my brother @TomKingTK to write it. https://t.co/BxL8Z83U1u

— Mitch Gerads (@MitchGerads) December 20, 2018
4. Tom King is leaving Batman because he's been hired by HBO to rewrite the Game of Thrones final season in response to that fan petition. Spoiler alert: everyone in Westeros now has PTSD.
5. King has left Batman to write the new Heroes in Crisis Ongoing, a 200-issue epic wherein Wally West becomes trapped in a time loop and murders the heroes at Sanctuary over and over and over and over and over and over and over and over and over…
What do you think? Nailed it, right? Feel free to post your own theories and speculation in the comments, folks.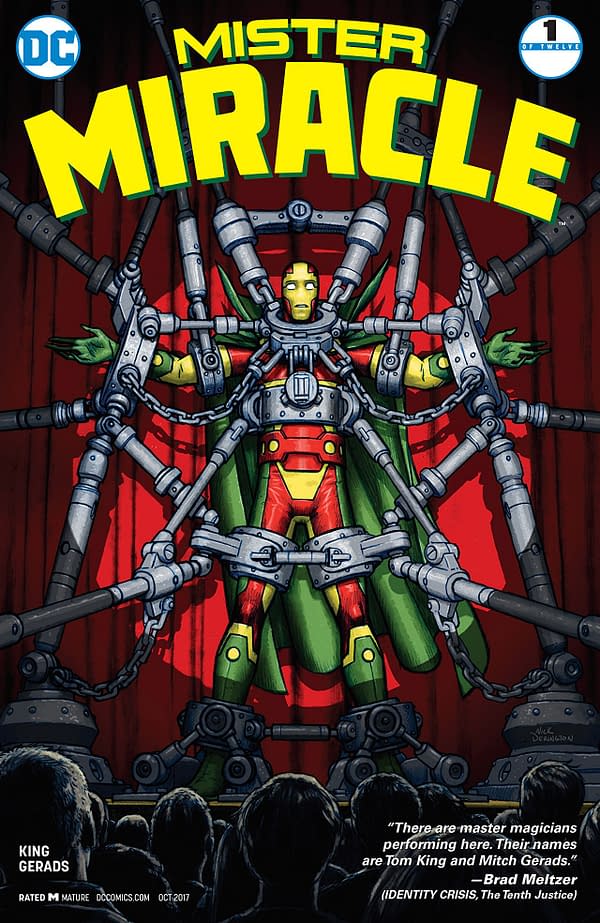 Enjoyed this article? Share it!