Superman is a nigh-infallible being, an peak physical being with super powers and a boy scout attitude. But is that really the American way? Dear Justice League, a new young readers book from DC's DC Zoom imprint, aims to show that Superman actually does have flaws! And like a typical American, he's totally obsessed with checking his stupid smartphone all the time…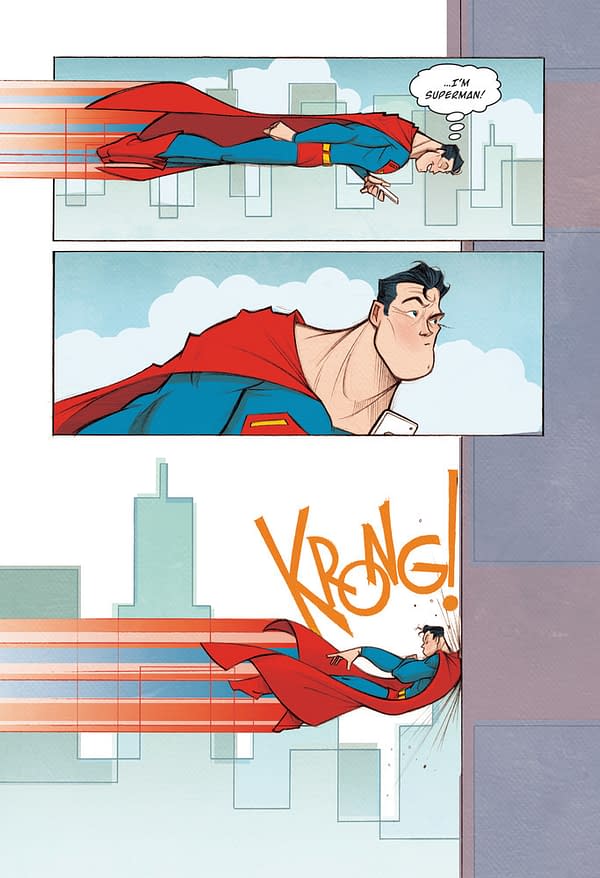 The book is hitting stores in August, but you can pick up an excerpt at your local comic shop for Free Comic Book Day today. DC has also released a new trailer for the book, which you can watch below.
DEAR JUSTICE LEAGUE

Written by Michael Northrop
Illustrated by Gustavo Duarte
On sale everywhere books are sold on August 6, 2019
MSRP: $9.99
The greatest heroes in the DC universe, the Justice League, answer mail from their biggest fans–kids!–courtesy of Michael Northrop, New York Times bestselling author of TombQuest, and artist Gustavo Duarte.

Does Superman ever make mistakes? What was Wonder Woman's eleventh birthday like? Does Aquaman smell like fish? In this new middle-grade graphic novel, iconic heroes are asked questions both big and small, and when they are not busy saving the world, the Justice League even finds time to respond. Their honest and humorous answers will surprise and delight readers of any age, as it turns out that being a superhero is not too different from being a kid.

Full of feats, follies, and colorful illustrations, Dear Justice League gives readers the inside scoop into everyday heroics, no matter who wears the cape!
Enjoyed this article? Share it!