What Marvel's Avengers Tells Us About Upcoming What If? Crossover
Comic book Jason Aaron has been going all out on parallel universes in his current run on the Avengers comic book. From a parallel dimensional Heroes Reborn universe event, to the Free Comic Book Day reveal of the Avenger Prime diving into one dimension to another, while a new Multiversal Masters of Evil gathers, with different parallel versions of Doctor Doom, Thanos, Venom, Ghost Rider and Wolverine in tow. With a big Avengers #50/#750 anniversary issue coming up, Aaron is also launching a new event comic, Avengers Forever with Aaron Kuder, which features all manner of Avengers from a variety of parallel dimensions, all together as one.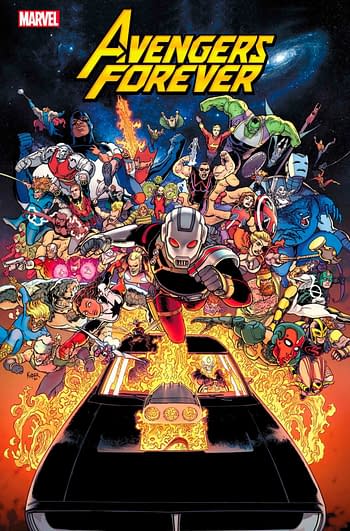 Of course, this is all happening alongside the release of the Marvel Studios TV show, What If…?, featuring a bunch of different parallel dimension versions of characters from the MCU. With a mid-season teaser giving us this one shot: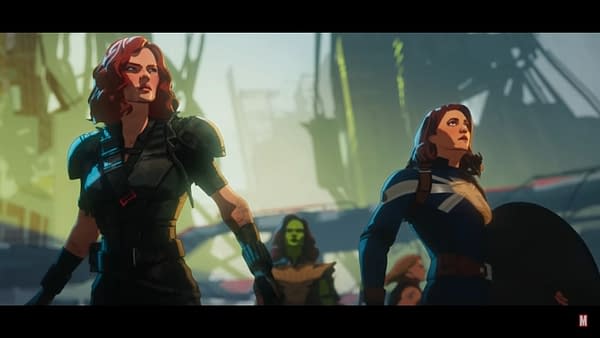 Replacing The Avengers as we know them in the circular shot, with different versions of the characters, including Captain Carter and Dube Bros Thor from previous episodes of What If…? It looks as if they will have their own crossover episode soon, with different versions of MCU characters from different episodes teaming up as a multiversal Avengers, and that the comic book will be reflecting that. With archeologist Tony Stark the Invincible Ant-Man and more.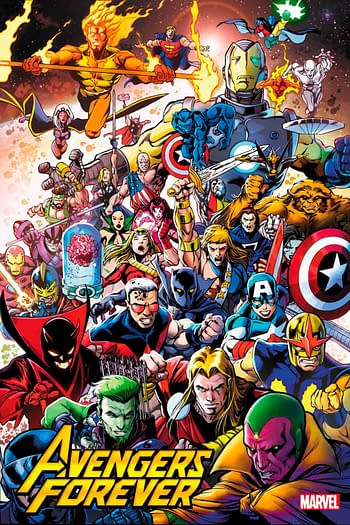 We have been here before. Marvel Comics published a series called The Exiles, made up of characters from different parallel universes, while DC Comics has been toying with the same, with Justice Incarnate in Infinite Frontier. Everyone loves a Multiverse these days…
AVENGERS FOREVER #1
MARVEL COMICS
OCT210783
(W) Jason Aaron (A/CA) Aaron Kuder
AN ALL-NEW SERIES STARRING THE AVENGERS OF THE MULTIVERSE!
On a quest for cosmic vengeance, Ghost Rider finds himself roaring through the wasteland on a ruined Earth, where the great age of heroes never came to be, where hope is a four-letter word and where his only ally in the coming battle against the greatest villains any universe has ever seen is the world's most wanted archaeologist, Tony Stark…the Invincible Ant-Man. Spinning out of the cataclysmic events of AVENGERS #750 and operating in lockstep with the prime AVENGERS series, the next great Avengers saga begins here, as the Mightiest Heroes of every Earth begin to assemble.
RATED T+In Shops: Dec 01, 2021
SRP: $4.99

AVENGERS #50
MARVEL COMICS
SEP210830
(W) Jason Aaron, Christopher Ruocchio (A) Aaron Kuder, More (CA) Ed McGuinness
COMMEMORATING LEGACY #750!
Supersize extravaganza of Earth's mightiest action and surprises!
Witness the jaw-dropping conclusion of "World War She-Hulk!" Learn the true purpose of the prehistoric Avengers! Uncover the shocking secret of the Iron Inquisitor! Behold the most powerful collection of super-psychopaths that any Earth has ever seen! Watch the Avengers recruit some shocking new members! And follow the Ghost Rider on a quest for vengeance across the Multiverse that will spark an all-new era in Avengers history!
Plus: A bonus story featuring Thor by Christopher Ruocchio and Steve McNiven!
RATED T+In Shops: Nov 17, 2021
SRP: $9.99