What's the Opposite of a Cool Reveal? X-Force #7 [X-ual Healing 2-12-20]
Three X-books were published last week, and we're running out of time to recap them all! Damn you, Presidents Day! This week we recap X-Men #6, X-Force #7, and Excalibur #7. Were they any good? And which was best? Read on to find out!
---
Sworn to sell comics for Marvel executives who feared and hated the fact that Fox owned their movie rights, The Uncanny X-Men suffered great indignities, but thanks to a corporate merger and a line-wide relaunch, the X-Men can finally get back to doing what they do best: being objectively the best franchise in all of comics.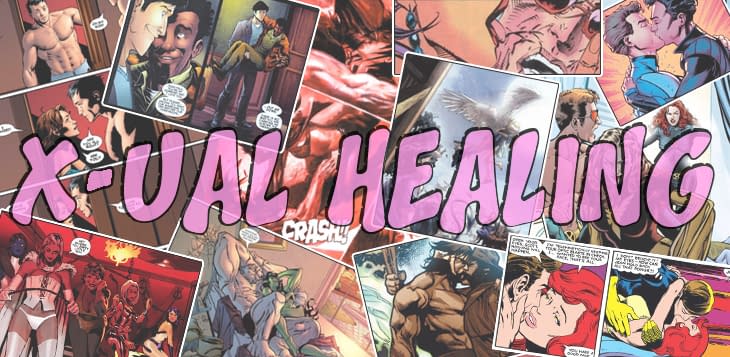 ---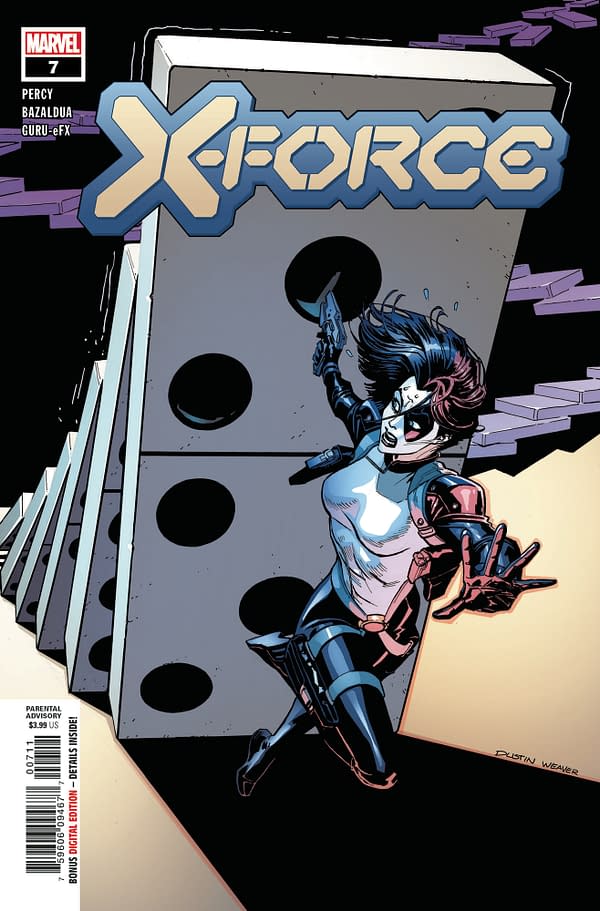 X-FORCE #7 DX
DEC190790
(W) Ben Percy (A) Oscar Bazaldua (CA) Dustin Weaver
MISS FORTUNE STRIKES!
Domino's luck seems to be changing… Can she find the source of her misfortune before it costs lives all over the world? And has Colossus healed enough to help her… or even himself?
Parental Advisory
In Shops: Feb 12, 2020
SRP: $3.99
What happened in X-Force #7?
The issue begins with Sage reporting to Domino on a number of assassinations of mutant-sympathetic people being conducted in highly unlikely ways that require an incredible amount of luck to pull off. Domino notes that her luck has been missing ever since she was captured, demonstrating by rolling snake eyes on a pair of dice over and over. She suspects someone has stolen her luck. A text page from Beast's logbook shows Beast has commissioned plant-based surveillance technology to spy on powerful people around the world, including the Avengers.
Later, Domino can't sleep due to nightmares about her captivity, so she goes for a run. She runs into Colossus, who is having similar problems after dying on a recent mission. Another Beast text page tells of Beast finding a scrap of paper someone left for him with one word written in Russian which translates to Chronicler. I wrote about who that note could refer to here.
Domino meets with Sage again and they manage to predict the likely next target of the assassin, Professor Elise Irene Owsley, an evolutionary biologist and mutant rights defender who is giving a keynote speech at a mountain summit at a think tank in Tahoe. Domino pays her a visit and saves her from a sniper and jumps out the window for a James Bond-esque downhill snowboard chase. By being in this person's vicinity, Domino's bad luck is rubbing off on them. Domino follows them into a casino where she loses track. But we see the assassin help a woman win at the slot machines. She's a reverse domino: all black with a white eye patch and white hair. Okay then.
Was it any good?
Setting aside that we just had a story where someone stole Domino's luck in the recent Domino solo series by Gail Simone and David Baldeon, the basic concept here is an interesting one. Or at least, it was until we saw that the villain here was literally a reverse Domino. Sorry, but "reverse ____" is a stupid concept for a villain. It's stupid for The Flash and it's stupid here. We'll see if it can be redeemed in the future, but for now, I'm filing it under too goofy to take seriously. On a side note, I can't wait for Beast's arrogance to blow up in his face.
---
Read more X-ual Healing here: