Wonder Woman #50 Review: Stepping Around the Catharsis
[rwp-review-recap id="0"]
Wonder Woman and Steve Trevor meet up before Steve goes off on a tour, now rejoined with the Navy. They reflect on the battle against the Dark Gods, and we go back to Diana's fight against their legion as well as her brother Jason. It's only Wonder Woman left to fight these monstrosities, and she worries for her brother's safety in their thrall.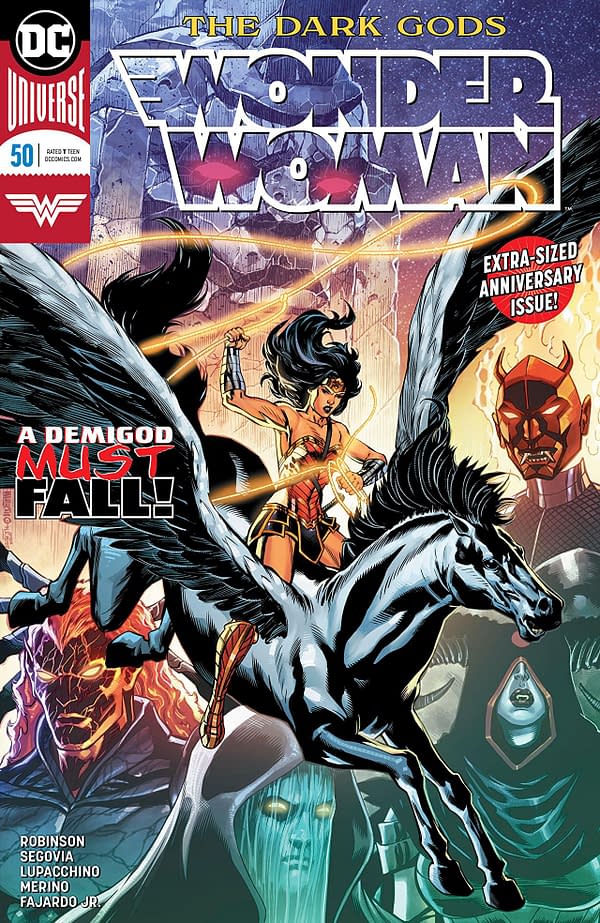 The Dark Gods story ends with this issue, and it's an ending that shoots for a big emotional loss.
Well, it sort of goes for that loss. It feels like a half measure. The said loss is discussed in the opening scene, and we see it happen over the course of the battle with the Dark Gods. The ending of the comic and even the frame narrative avoid much of an emotional release.
That's not a bad instinct, as it keeps the comic from becoming melodramatic. However, it leaves that loss feeling undercut and not fully expressed.
The fight against the Dark Gods is cool, but they lose any personality or defining traits in this issue. King Best is the only one who delivers dialogue, and it's not especially interesting. The means by which the Dark Gods are defeated is vague and seems to be aiming for symbolic, and it isn't particularly satisfying.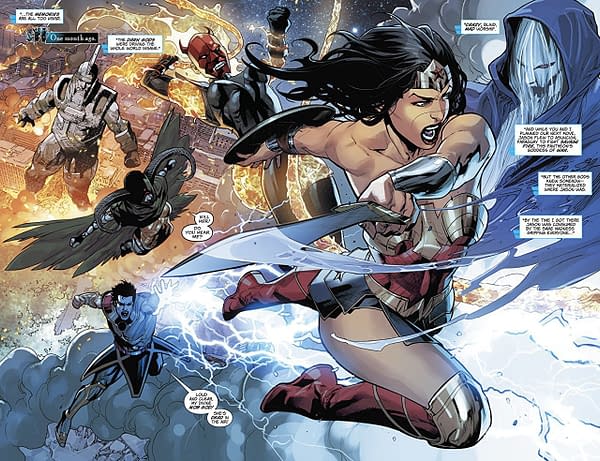 Stephen Segovia, Jesus Merino, and[user_id] Emanuela Luppachino split the artwork of this comic, and their styles gel surprisingly well. Each uses their detailing work to provide significant visual depth to the book, and each mixes classic and modern styling for their work. Romulo Fajardo Jr. and Chris Sotomayor handle the color work, which is bright and well-balanced. The comic looks great from beginning to end.
Wonder Woman #50 is a decent issue. It has its problems without a doubt, and its execution seems to deliberately sidestep much of a catharsis. That said, there is still some emotional engagement to be had, and the battle is still quite cool. The artistic team does excellent work too. This one earns a tentative recommendation. Feel free to check it out.
[rwp-review-ratings id="0"]
[rwp-review-form id="0"]