Writer's Commentary For Reanimator #4 By Keith Davidsen
This is a Writer's Commentary for Reanimator #4 by Keith Davidsen. Here he focuses on the first seven pages of the issue that wraps up the miniseries based on the work of H.P. Lovecraft and features the classic character Dr. Herbert West. PAGE 1: SUSAN'S VOICE
Whenever narration appears throughout the REANIMATOR series, it's always from the point of view of Susan Greene, the young assistant working for Herbert West. It's an intentional nod to the original source material, H.P. Lovecraft's "Herbert West – Reanimator," which is told from the point of view of an unnamed male assistant.
Originally, I thought about having Herbert West be the narrator, to really get inside the head of this cold, calculating man… but part of the fun of this series, I think, comes from the fact that no one really knows what the Reanimator's ends are until the third and fourth issues. If you get inside his head too early, you lose the big reveal that he's been manipulating everything from Day One.
PAGE 1: BONE DADDY
Samedi, the Voodoo-practicing hitman who serves as Dice's lieutenant, is based on Baron Samedi, the skull-faced Loa (spirit) of Haitian Vodou – or, more accurately, the popular perception of the traditional figure.
What would eventually become the REANIMATOR series originally began as a brainstorming session at the Dynamite home office. The staff had wanted to get a weekly event series off the ground, and I'd recommended that we'd do a horror-themed crossover in the month of February, coinciding with Mardi Gras. The pitch involved one-shots dedicated to Vampirella, Reanimator, Evil Ernie, and Eva: Daughter of the Dragon, with each of them fighting a different New Orleans-based villain. The supernatural Baron Samedi was going to be one of the key villains, and as the project changed and became more focused as the REANIMATOR series, he changed from Loa himself to a fearsome individual assuming his namesake.
Samedi appears for the first time in REANIMATOR #4 wearing the face (and body) paint that's so closely tied to the traditional Baron Samedi look. He'd had a moment of inspiration in issue #3, when Samedi came across paint at Big Will's convenience store. War paint is cool, y'know?
PAGE 1: ELDRITCH KREWE VS. GRIS-GRIS BOYZ
I've always loved stories where the protagonist is targeted by several different parties, and the climactic battle involves those various parties showing up in the same place and going to war. Intentionally or accidentally, when the protagonist pits his enemies against each other, it's fun to watch.
The Eldritch Krewe is a criminal organization whose name combines something very Lovecraftian with something very Louisianan. "Eldritch" is perhaps one of Lovecraft's favorite words, referenced so frequently in his stories that it's either irritating or charming, depending on your appreciation of his work. It simply means "spooky" or "weird". Meanwhile, a "Krewe" is an organization dedicated to creating a parade, which ties back into my original Mardi Gras-themed crossover pitch.
I wanted a drug war to feature in the REANIMATOR series, so I needed to create two sides that were visually and philosophically different. While the Eldrith Krewe was elitist and tied to the Cthulhu cult, the Gris-Gris Boyz were more street-level, with Haitain ties. "Gris-Gris" is a reference to the type of charms or amulets used in traditions of Vodou and African religion. I wanted this gang to feel more like those that currently operate in the United States, so giving it a name like "posse" or "familia" seemed right. I settled on "Boyz" despite how it made me think of very dated 1990s hip hop.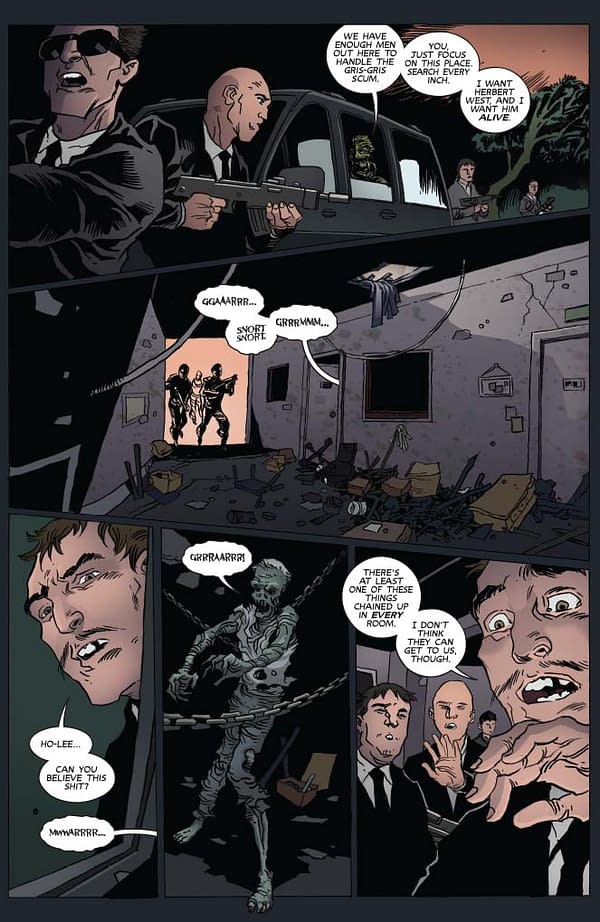 PAGES 2-4: KING OF THE ZOMBIES
Herbert West's original intent – as conceived of by H.P. Lovecraft – was never to create zombies. He wants to restore the dead to perfect life, to undo the very act of death. Let's say you're fine one day, but you die the next. In his perfect vision of the world, the Reanimator would then injects you with his solution, and by Day Four, you'd be fine again. Shambling corpses were the by-products of his failed experiments. In the original "Herbert West – Reanimator", he eventually starts performing rather unnecessary experiments. As Lovecraft put it, "his once normal scientific zeal for prolonging life had subtly degenerated into a mere morbid and ghoulish curiosity and secret sense of charnel picturesqueness. His interest became a hellish and perverse addiction to the repellently and fiendishly abnormal; he gloated calmly over artificial monstrosities."
Because we're making comics, I wanted Herbert West, the Man of Science (if not Reason), to have several moments as an unexpected Man of Action. With a shotgun in his hand, facing down the Krewe lackies who'd dared to enter his laboratory… it's a very "hero" thing to do. However, while he did on occasion shoot people in this series, I did try more often than not to create alternatives to direct violence. He's a puppet master, so it's fitting that he "cuts the strings" on his zombie hordes, letting them drop on his enemies, rather than shooting the enemies himself. PAGE 5: CTHULHU REX
Croceus Rex, the drug-addicted elitist who runs the Eldritch Krewe, appears in all his mutated glory on this page. "Croceus" means "yellow" or "gold", and "Rex" is Latin for "king". While Lovecraft had been a fan of Robert W. Chambers' "The King in Yellow" and referenced it throughout the Cthulhu mythos, I wish I could say that this Lovecraft fact informed the naming of this villain, but the name came from a completely different line of thought. The traditional colors of Mardi Gras are purple, gold, and green – which represent justice, power, and faith. Croceus Rex cares nothing for justice, and while he is a devotee of Cthulhu, his faith is really more about positioning himself for the acquisition of power than anything else.
Over the course of the series, Croceus Rex has increasingly used Herbert West's Eunique drug, which the Reanimator warned would have negative side effects. Overindulgence had made Rex "psychically hypersensitive", a phrase coined by Lovecraft in his classic tale, "The Call of Cthulhu", and therefore the villain was susceptible to the dream-like influence of the Elder God. In issue #3, Rex then acquired and injected a sample of West's blood… and ever since, his body had mutated into more and more of an abomination. It's important to note that the upper and lower halves of his metamorphic body have very different physical attributes. His torso, arms, and head are covered in writhing tentacles, while his legs are tumorous. There's a very distinct reason for that, revealed a little later in the issue.
PAGE 6: THE AGONY FONT
It's a subtle change, but when Croceus Rex says, "This… is… agony", there's a font switch for that last word. Throughout the remainder of the issue, all of his dialogue reflects the new font, a visual cue to the character's continuing physical changes. He's still transforming into something inhuman, inside and out.
PAGE 7: SUSAN GREENE, REANIMATOR
Susan Greene wears a practically identical outfit to Herbert West in this issue, assuming his trademark lab coat and satchel. As revealed in the third issue, everything that has happened in this series has been carefully orchestrated by the Reanimator to groom Susan into his perfect assistant. She's his experiment. It's important that here, in the final issue, we can see that his experiment has been largely successful, and that visually she's become much more like him.
Susan still needs to cross certain moral boundaries, however. When she confronts Dice, the gangster who murdered her fiancé, she says, "I came out here to see you dead." That's a pretty clear indication that she's willing to cast ethics aside. However, she's driven by a need for justice or revenge, where West could kill coldly as a means to an end (which, in his case, is to further his scientific pursuits, as anyone who dies here becomes a body to perform experiments on). Still, forsaking the moral path is a slippery slope… one which West hopes to exploit.