Today's Year Of The Villain special by Mark Russell, Scott Godlewski, Marissa Louise and Travis Lanham looks like it was one of the final titles edited by Molly Mahan before she left to be Senior Narrative Editor at Riot Games in Los Angeles.
But she seems to have left quite the change behind her.
The comic book sees Riddler teaming up with King Tut to take down Batman using all the traditional means. Traps. Choices. Riddles. And going through a mid-life crisis. The greatest riddle of all – why the hell does he do this? Or rather, do it like this?
If The War Of Jokes And Riddles over in Batman levelled the Riddler up as a major threat to the people of Gotham – and the rest of the country, the world even – The Riddler Special brings him crashing back down again to Adam West-level of threat. While getting called on it from the Apex Lex Luthor.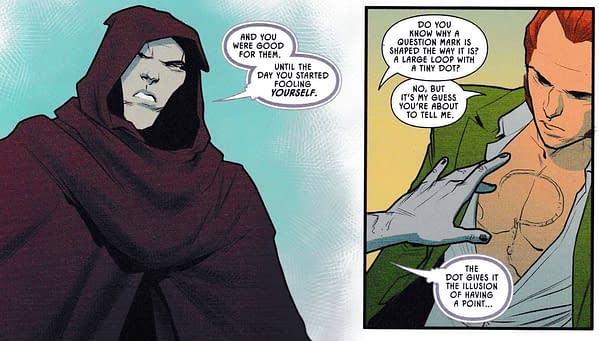 Until there is only one way out.
Riddler No More. What happens next, who he will be now, maybe we will find out later. But odds are it won't be pretty. Mark Russell, making changes, setting up the future… consider this the anti-LEGO Batman.
RIDDLER YEAR OF THE VILLAIN #1
(W) Mark Russell (A) Scott Godlewski (CA) Mikel Janin
Lex Luthor has presented dark gifts to super-villains across the DC Universe, setting off what can only be called the Year of the Villain. Unfortunately, resources are limited, so not everyone got something. The Riddler is one such person, and he is most displeased about it. Was this merely an oversight or a deliberate slight? The Riddler is determined to find out which-and so should you!In Shops: Sep 11, 2019 SRP: $4.99
Enjoyed this article? Share it!