From Oni Press in July 2017… and it begins, as it ends, with Rick And Morty….
RICK AND MORTY: POCKET LIKE YOU STOLE IT #1 (OF 5)
TINI HOWARD (W) • MARC ELLERBY (A/CA) • KATY FARINA (C/CA)
ALTERNATE COVER ILLUSTRATED BY CAROLYN MAIN
Rick and Morty: Pocket Like You Stole It is a new comic book miniseries based on the popular [adult swim] television series and inspired by the Pocket Mortys mobile game! In this five-issue series, Morty is on a quest to free himself (and all the other Mortys) from the clutches of Ricks, who collect Mortys and force them to battle one another for schmeckles and glory. Along the way, he'll discover the grisly history of Morty battling, the dastardly lengths that Ricks are willing to stoop to in order to win, and perhaps… the strength in himself that's needed to free the Mortys once and for all?
JULY 5 / 32 Pages / Teen / Humor, Sci-fi / $3.99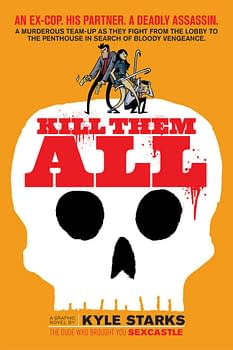 KILL THEM ALL
KYLE STARKS (W/A/CA) • LUIGI ANDERSON (C/CA)
The new gonzo graphic novel love letter to 90s action movies by Eisner-nominated cartoonist Kyle Starks (Sexcastle, Rick and Morty). A betrayed murderess wants revenge. A hard-drinking former cop wants his job back. For either to get what they want, they're going to have to fight their way through fifteen flights of criminals, assassins, drug lords, murderers, yup, even accountants, and… KILL. THEM. ALL.
SEPTEMBER 27 / 184 Pages / Mature / Humor, Action / $19.99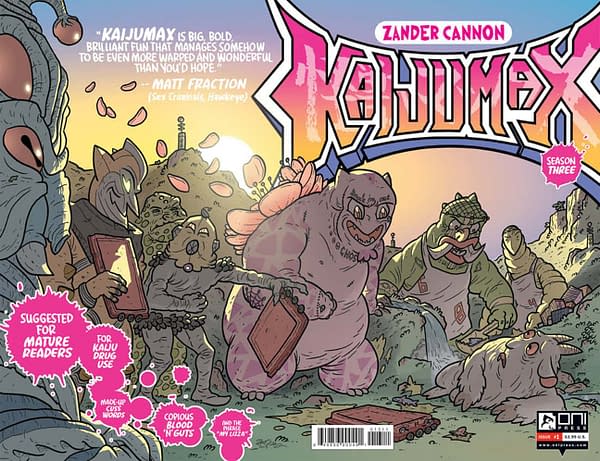 KAIJUMAX SEASON THREE #1
ZANDER CANNON (W/A/C/CA)
New season! New jumping-on point! Ah, Kaijumax Prison… that cesspool of corruption in the South Pacific! Tensions among the city-destroying convicts have eased after a month-long lockdown and Electrogor's capture, and now the kaiju gangs have begun vying for power again, all-out-attacking their rivals, trading addictive smog and dioxin, and abusing weaker inmates. The Creature from Devil's Creek, after a long time as the low mon in the Cryptid hierarchy, stumbles upon some information that makes him think it doesn't have to be like this. Also: Mind-controlled murders! Pre-smartphone navigation fails! And… some VERY old timey religion?
JULY 12 / 32 Pages / Mature / Sci-fi / $3.99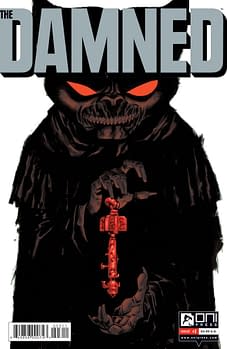 THE DAMNED #3
CULLEN BUNN (W) • BRIAN HURTT (A/CA) • BILL CRABTREE (C/CA)
Sketchy gambler Pauly Bones has slithered into Eddie's life with an offer—together they can turn the tables on the demon crime families and finally get what they deserve. Eddie and Pauly can't trust each other, though, and it's only a matter of time before one double crosses the other. But with a new hired killer in town, they might both be dead before they can make their treacherous plays.
JULY 12 / 32 Pages / Mature / Crime, Fantasy / $3.99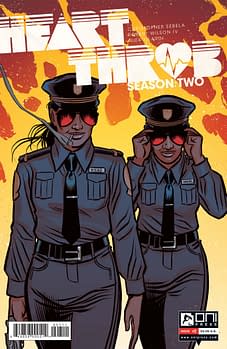 HEARTTHROB SEASON TWO #2
CHRISTOPHER SEBELA (W) • ROBERT WILSON IV (A/CA) • NICK FILARDI (C/CA)
Absence makes the heart grow fonder and after spending the last several months avoiding her criminal past to try and build a normal life, Callie is fonder than ever. Forced to set her normal existence aside and break her anarchist pals out of a Canadian jail, Callie finds herself head over heels for her old life. When this one-time dalliance threatens to turn into a full-blown crime spree, Callie turns to the only person who will understand: Mercer.
JULY 5 / 32 Pages / Mature / Crime / $3.99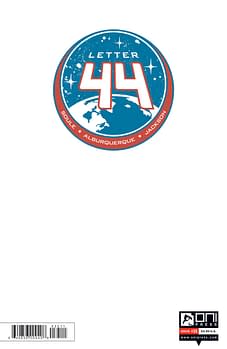 LETTER 44 #35
CHARLES SOULE (W) • ALBERTO JIMÉNEZ ALBURQUERQUE (A) • DAN JACKSON (C)
THE END IS HERE. The final installment that will bring the award-winning series to a close.
JULY 19 / 32 Pages / Mature / Sci-fi / $3.99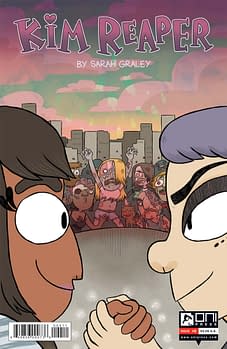 KIM REAPER #4
SARAH GRALEY (W/A/C/CA)
Kim is suspended from her job as a Grim Reaper and is working in a bakery with Becka—a welcomed change of scenery, until a zombie rolls up to the counter. Animated corpses are the last straw, gosh darnit, so the pair decide to take matters into their own hands and venture down into the Underworld. And if they end up kicking some ghoulish booty on the way, that's fine with them!
JULY 12 / 32 Pages / Teen / Humor, Adventure / $3.99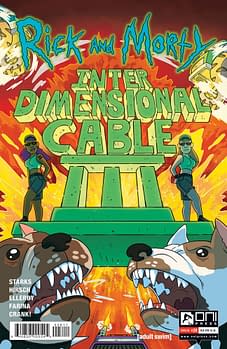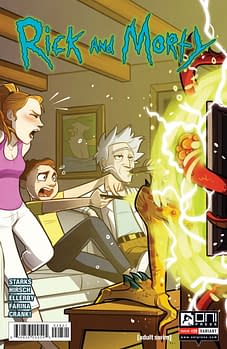 RICK AND MORTY #28
KYLE STARKS (W/A) • ANDY HIRSCH (A) • MARC ELLERBY (A/C) • KATY FARINA (C/CA) • CJ CANNON (CA)
ALTERNATE COVER ILLUSTRATED BY JENN ST-ONGE
OH MY GOD IT'S INTERDIMENSIONAL CABLE TIME! Rick and Morty are wanted fugitives in an alien dimension, so until the heat dies down, there's not much to do but watch interdimensional cable! Can you even believe it? A special one-shot issue drawn by writer Kyle Starks (with a special cameo by Andy Hirsch)! Meanwhile, Jerry learns a painful lesson in film history in this issue's back-up comic drawn by Marc Ellerby!
JULY 26 / 32 Pages / Teen / Humor, Sci-fi / $3.99
INVADER ZIM #22
ERIC TRUEHEART (W) • WARREN WUCINICH (A/CA) • FRED C. STRESING (C/CA)
ALTERNATE COVER ILLUSTRATED BY JON VERMILYEA
WELCOME TO ZIM'S GREATEST PLAN YET! Earth will soon be his! (Maybe!) Unfortunately, there's something wrong with GIR—ASIDE from the usual list of things. For one, he's intentionally trying to kill ZIM. And for two, he's doing it at the worst possible times. Is ZIM's greatest plan destined for failure (like it usually is)? Part one of a four-part story!
JULY 26 / 32 Pages / All Ages / Humor, Sci-fi / $3.99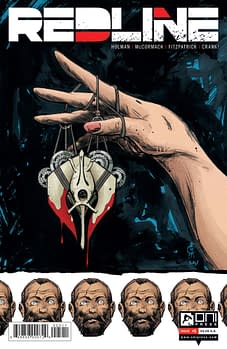 REDLINE #5
NEAL HOLMAN (W) • CLAYTON MCCORMACK (A/CA) • KELLY FITZPATRICK (C/CA)
Everybody's dead and everything basically sucks, so it's a good time for Superintendent Coyle to start actually getting some leads into just whatever the hell is going on on Mars. Plus a robot armor guy fights a limousine. Plus some answers to questions you may have been wondering about. Plus shenanigans. HOOORAY!
JULY 5 / 32 Pages / Mature / Sci-fi / $3.99

INVADER ZIM, VOLUME 4
JHONEN VASQUEZ, ERIC TRUEHEART, DANIELLE KOENIG (W) • AARON ALEXOVICH (W/A) • WARREN WUCINICH (A/CA) • FRED C. STRESING, CASSIE KELLY (C)
ZIM has plans to take over planet Earth. Schemes! Designs! Machinations! Uh… other words that mean "plans"! And in the fourth volume of the critically acclaimed comic series, these "plans" are plentiful, horrifying, and only half as terrible as usual! From taking over a local restaurant to proving to Dib that he's the master of fear, ZIM will rule the world, one way or another! Or not at all. Or only on Tuesdays? COLLECTS INVADER ZIM ISSUES 16-20!
AUGUST 2 / 128 Pages / All Ages / Humor, Sci-fi / $19.99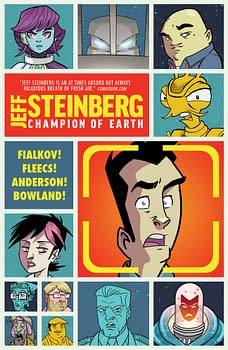 JEFF STEINBERG: CHAMPION OF EARTH
JOSHUA HALE FIALKOV (W) • TONY FLEECS (W/A/CA) • LUIGI ANDERSON (C/CA)
Have you ever wondered what could have been if Kevin Smith directed Men in Black? Us either because that's kind of a dumb thing to wonder. Besides, why obsess about "What ifs?" when you could be reading the defining sci-fi-rom-com-dram-actioner of our time! From the writer of The Bunker and the artist of My Little Pony—wait, really? Okay, I guess we'll go with it—comes an alien invasion the likes of which have never before been seen by human eyes.
The space invaders are real. They're here. They're mean. And they're standing in judgement over the citizens of Earth. The human race's final exam. They've chosen a single champion to test and, unfortunately for us, it's none other than Jeff Steinberg. Romantically challenged idiot, video store clerk, constipated, confused, distractible. In other words, the planet is totally doomed.
SEPTEMBER 20 / 176 Pages / Mature / Humor, Sci-fi / $19.99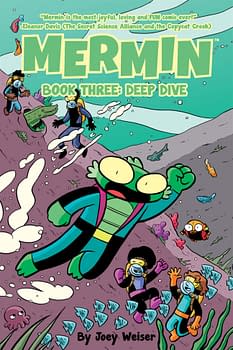 MERMIN, BOOK THREE: DEEP DIVE (SOFTCOVER EDITION)
JOEY WEISER (W/A/C/CA)
The third book in Joey Weiser's Eisner Award-nominated series is now in PAPERBACK! No one knows much about Mer, the underwater kingdom where Mermin the merman was born, but due to a rising conflict with the people of Atlantis, Mermin needs to get back home immediately. Which means his human friends get to accompany him and see all the aquatic wonders of Mer. But once again, Mermin is tight-lipped about his past—even when it's swimming right in front of him. And there are enemies lurking in the seedier depths of Mer, who've got their sights set not only on Mermin, but on Pete and his friends!
SEPTEMBER 13 / 152 Pages / All Ages / Adventure, Humor / $12.99 ATOMIC BLONDE: THE COLDEST CITY (SOFTCOVER EDITION)
ANTONY JOHNSTON (W) • SAM HART (A)
NOVEMBER 1989. MI6 spy Lorraine Broughton was sent to Berlin to investigate the death of another agent, and the disappearance of a list revealing every spy working there. She found a powder keg of mistrust, assassinations and bad defections that ended with the murder of MI6's top officer, as the Berlin Wall was torn down. Now Lorraine has returned from the Cold War's coldest city, to tell her story. And nothing is what it seems.
MAY 10 / 176 Pages / Mature / Crime / $14.99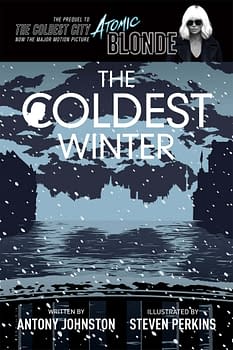 THE COLDEST WINTER: ATOMIC BLONDE (SOFTCOVER EDITION)
ANTONY JOHNSTON (W) • STEVEN PERKINS (A)
EIGHT YEARS BEFORE "ATOMIC BLONDE" …BERLIN FROZE. After a string of botched assignments for MI6 in Berlin, David Perceval is being sent home. Even his final mission before leaving—the defection of a Soviet scientist—goes badly wrong, as the coldest winter for 30 years descends on Europe.
With transport out of Berlin impossible, and the KGB searching everywhere for their lost scientist, Perceval must improvise a deadly game of cat and mouse through the frozen city to keep the Russians at bay, and deliver his own unique brand of revenge!
MAY 10 / 184 Pages / Mature / Crime / $14.99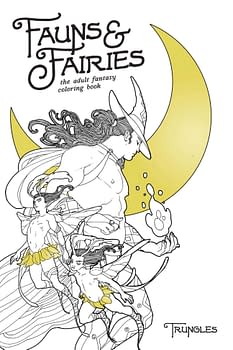 FAUNS & FAIRIES: THE ADULT FANTASY COLORING BOOK
TRUNGLES (W/A/CA)
Fauns & Fairies: The Adult Fantasy Coloring Book is an erotic coloring book for adults, offering a steamy interpretation of traditional fantasy characters. From succubi to knights to pixies, the beautiful art nouveau-inspired illustrations show classic characters in sensuous poses sure to please. The delicate and detailed artwork is ideal for adult coloring book enthusiasts!
SEPTEMBER 20 / 88 Pages / Mature / Fantasy, Erotica / $11.99
Enjoyed this article? Share it!