A 'Dune' Open World Multiplayer Game Coming from Funcom
Our dreams of riding worms on Arrakis with our friends is closer to being a reality, as Funcom has just partnered with Legendary Pictures to create new games based on Frank Herbert's seminal science fiction novel, Dune.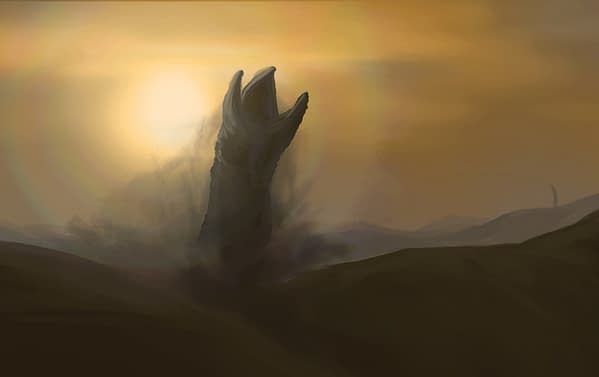 The official press release reads:
Funcom has entered into an exclusive partnership with Legendary Studios to develop games based on the works of Frank Herbert's DUNE, one of the world's best known science fiction universes with multiple adaptations into movies, games and other media.

This is a six year partnership to release at least three titles on the PC/Console platforms, with one of the games planned to be in the "Open World Multiplayer" genre that will enter into pre-production in Funcom's Oslo studio during 2019.

Entering into this partnership is in line with the company's strategy of working with strong Intellectual Properties, allowing for two different vast and well known universes – CONAN and DUNE – to be available for the Company's games.
Funcom joins Gale Force Nine (who were awarded the table top gaming rights to the franchise) in the creation and publishing of games set in the Dune universe. We couldn't be more excited!
Legendary's upcoming Dune film adaptation from Oscar nominated director Denis Villeneuve will star two-time Oscar nominee Timothée Chalamet will star as Paul Atredies, Rebecca Ferguson as his mother The Lady Jessica, Oscar Isaac reportedly joining the film as Paul's father Duke Leto Atreides, Stellan Skarsgard as Baron Vladimir Harkonnen, Charlotte Rampling as the Bene Gesserit Reverend Mother Gaius Helen Mohiam, Dave Bautista as the Beast Raban Harkonnen, Javier Bardem as Fremen leader Stilgar, Josh Brolin as Gurney Halleck, Jason Momoa as Duncan Idaho, David Dastmalchian as Mentat Piter de Vries, and Zendaya as Chani.
Dune is set to hit theaters on November 20th, 2020.
Shai Hulud.