In case you thought Bandai Namco was done with Dragon Ball Xenoverse 2, it turns out they still have more content coming to the game. When Dragon Ball FighterZ was introduced last year, it came with an original character, specific for the game called Android 21. Designed by Akira Toriyama, this is another creation of Dr. Gero with an intellect that rivals his. We won't spoil anything that happens with her in the fighting game, but for the most part, we assumed that's where she would remain. Well… until now.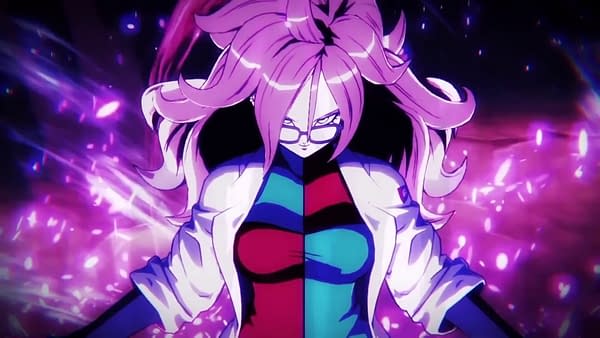 Ken Xyro posted these photos on his Twitter account, showing off Android 21 as a highlighted feature in V-Jump Magazine, being added to Xenoverse 2. According to the info, she will be added to what is currently called the Ultra DLC Pack #2. She will clearly be playable in her humanoid form, but it is unknown whether any of her other forms will be present in the game. (Though for those of us who know her story arc, it's almost a guarantee you'll be dealing with her other persona.)
She keeps her move from FighterZ it seems.

One is titled "Excellent Full Course", the one on the left.

The one on the right is titled "à la carte rush", some french culinary term. pic.twitter.com/2DYWpExotY

— 🍎 Ken Xyro | ᕕ( ᐛ )ᕗ (@KenXyro) October 19, 2019
No word yet as to when the DLC pack will be released into Dragon Ball Xenoverse 2, but we're guessing it'll happen just in time for the holidays.
Enjoyed this article? Share it!