Arcade1Up Adds Three New Cabinets Including Turtles In Time
Arcade1Up revealed three more classic arcade machines ahead of E3 2021 this week on top of The Simpsons on they already unveiled. These three are going to evoke a lot of memories for longtime arcade players as we're getting the Street Fighter II Big Blue Arcade Machine, the Ms. Pac-Man/Galaga Class of 81' Arcade Machine, and the Teenage Mutant Ninja Turtles: Turtles In Time Home Arcade Machine. Each one specially crafted to look exactly like the original machines from back in the day, but on a slightly smaller scale for home use. We got details on all three below as two will go up for pre-order in July and the last in August.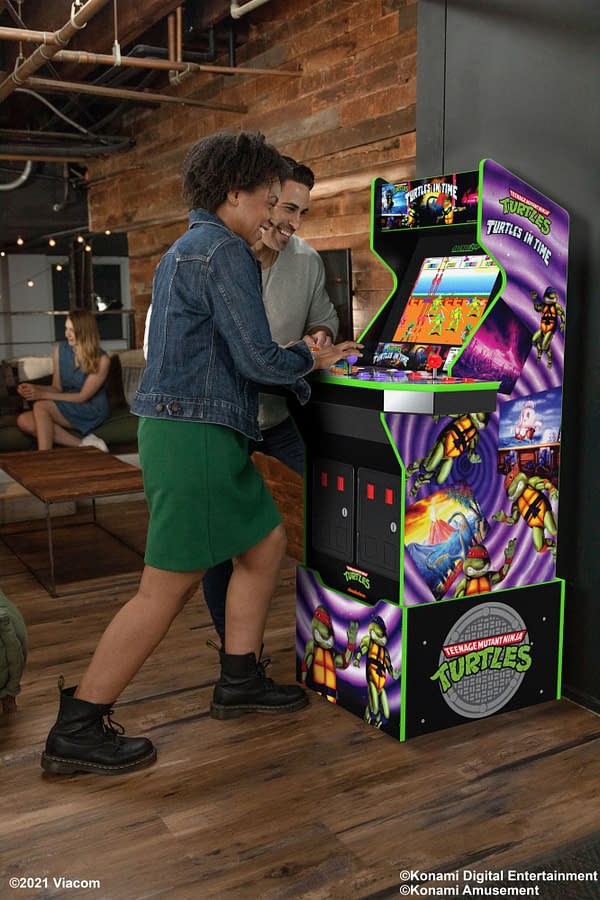 Street Fighter ll Big Blue Arcade Machine: To celebrate the 30th anniversary of its release, this Arcade1Up cabinet features a phenomenally iconic game list of 12 classic Capcom titles: Street Fighter II: Championship Edition, Street Fighter II' Hyper Fighting, Super Street Fighter II Turbo, Super Puzzle Fighter II Turbo, Darkstalkers, Night Warriors: Darkstalkers' Revenge, Darkstalkers 3, Saturday Night Slam Masters, Knights of the Round, Eco Fighters, Capcom Sports Club, and Muscle Bomber Duo are ALL packed inside this machine. Pre-orders begin July 1.
Ms. Pac-Man/Galaga Class of 81' Arcade Machine: Power up that nostalgia with the iconic Ms. Pac-Man, as you guide her through those infamous mazes while evading Blinky Pinky, Inky, and Sue. Then, fend off endless descending swarms of alien enemies with Galaga. Oh, and that's just the start of the phenomenal game list packed inside: Galaga '88, Galaxian, Dig Dug, Dig Dug II, Mappy, Rally-X, Rolling Thunder, Rompers, Tower Of Druaga, and King & Balloon are ALL also included. Pre-orders begin in August.
Turtles In Time Home Arcade Machine: "Cowabunga!" this new Arcade1Up machine allows you to take control of Leonardo, Michelangelo, Donatello, or Raphael with up to four simultaneous players, making for endless animation inspired fun. Pre-orders to begin July 1.