Atelier Ryza 3: Alchemist Of The End & The Secret Key Details Revealed
Koei Tecmo revealed new details this week for their new game, Atelier Ryza 3: Alchemist Of The End & The Secret Key. Serving as a direct sequel to the 2021 title, the game will play much as the previous two entries have with the storyline that Reisalin Stout and her band of mischievous friends are off on another summer adventure. The third one, if you can believe it, where they will investigate a group of mysterious islands that have suddenly appeared out at sea and have started affecting the stability of their hometown, Kurken Island. Will you be able to uncover the truth of what's happening? You'll find out when the game arrives on PC, PlayStation consoles, and Nintendo Switch on February 24th, 2023.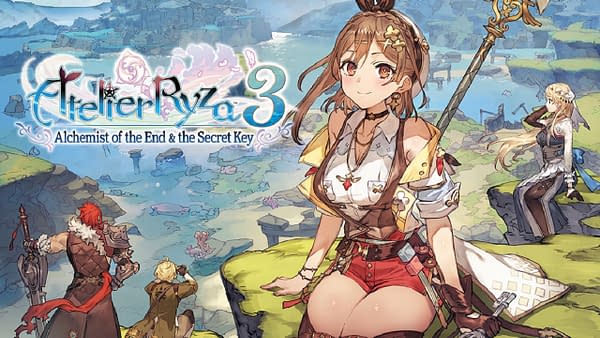 "Atelier Ryza 3: Alchemist Of The End & The Secret Key features real-time tactical battles with effects and presentation that are greatly enhanced from previous titles in the series. Players can select up to five battle members among the 11 party members and fight together as one team! A new system that transitions between battles, and the use of keys speeds up each fight and makes for a more seamless experience. Three battle members will be positioned up front with two in the rear, with players having the ability to use and swap out various skills. Some powerful sills will be activated in response to action orders from friends, while powerful keys can be equipped and used in battles to help crush the most grueling enemies. Using a key strengthens a character for a certain period of time, while also dropping the waiting time for all actions to zero, enabling you to use skills and attacks continuously!
Keys can also be used during the game's evolved synthesis system in order to help Ryza create more powerful items than ever before. By inserting materials into a material ring, Ryza will be able to synthesize special items; then by using a key to improve the level of the recipe, Ryza will be able to not only improve the quality of the item, she will be able to increase the number of creations! Through the new "Link Morph" ability, Ryza will be able to add certain effects to items that could not be added before, while some items will feature a "super trait," enabling the creation of even stronger items! Thanks to all of these new features, Ryza will be able to create extremely specialized items, the likes of which she hasn't seen before."