"Boldly Go" with Fantastic Star Trek: Adventures RPG Starter Set
One of the biggest hurdles for people interested in role-playing games is the sheer number of rules available for each game. Browsing through the volumes of rules compendiums at your local game store can be daunting, and how do you know where to start? Luckily, some companies have been savvy enough to collect Starter Sets for their games.
Modiphius Entertainment warps into the Starter Set fray with a solid introduction to their Star Trek: Adventures role playing game, in which players take on the roles of Star Fleet's finest and boldly go where no one has gone before!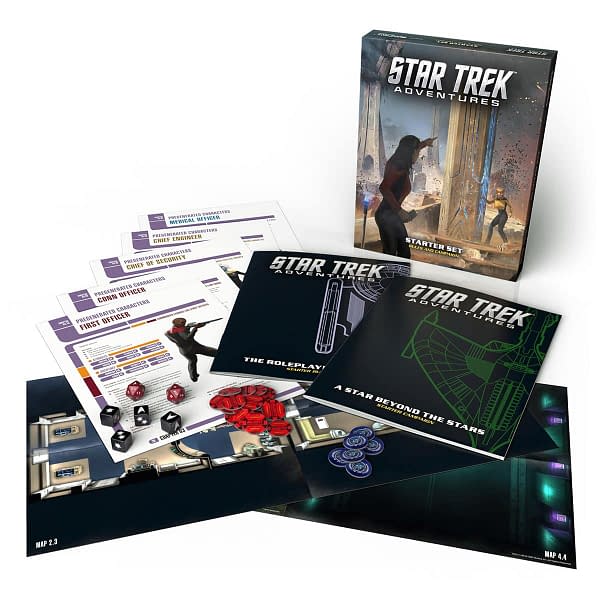 Here's what you get for your (suggested MSRP) $26.99:
Starter Rules booklet: Lays out the 2D20 game system.
A Three-Mission Campaign Booklet: Step by step campaign designed for new game masters!
6 Pre-Generated Character Sheets: Including 5 Starfleet officers and 1 Galaxy-class vessel.
Dice: 2 twenty-sided dice (d20s) and 4 custom six-sided dice with Starfleet emblems on them (d6s).
Tokens: These are for different game effects and the characters.
Poster Maps: Locations and parts of your ship in the mission.
The two books are nice, glossy stock with excellent art pulled from the much-bigger Star Trek: Adventures rule book. The main rules and campaign book are presented in an easy to follow format, and all of the information graphs are done in the classic Next Generation era LCARS format, which I personally love. The design of the books pulls you right into Trek, and who wouldn't want that?
Six dice are included; 2 20-sided dice, used for attempting tasks, and 4 special 6-sided "challenge" dice for determing damage and other effects. The dice look nice and don't appear to have any defects.
There are three token sheets, each printed on thick card stock. The tokens represent ships, characters and non-player characters in game, as well as Momentum and Threat tokens, which we'll get into later.
Five pre-generated characters are included, each representing a typical command crew from a Next Generation era starship (the main Star Trek: Adventures rulebook allows players and game masters to play in any Star Trek timeline they desire). The pre-generated characters are on the same gloss stock as the rule books, with that snazzy LCARS layout, too.
The front of each sheet has all of the information about each character, while the back has a handy reference for different conflict actions that character can take in game.
There is also a pre-generated ship, the Galaxy Class USS Magellan. The information sheet on the Magellan is the same as the character sheets, with ship stats on the front and ship conflict actions on the back.
There are also a number of small maps that should help game masters run challenging scenarios, I would recommend laminating them before your game sessions since they are on thin, glossy paper.
THE RULES
Rules for Star Trek: Adventures are easy to pick up. You characters have Attributes, each ranging from 7 to 12. The Attributes are a lot like most role playing games, with Control, Daring, Fitness, Insight, Presence, and Reason giving you a pretty good insight into your character.
Disciplines flesh out your character's training, and follow the standard assignments on Strafleet vessels. Your rank in Command, Conn, Security, Engineering, Science, and Medicine show how well your character has been trained in each area of their Starfleet career.
When attempting tasks, the game master figures out which combination of Attributes and Disciplines will be combined, which gives the character a target number they need to roll under on a 20-sided die. The GM then assigns a difficulty to the task (somewhere between 0 and 5), which the player tries to meet or exceed to be successful in their task.
So, if you have a task roll to shoot a phaser at a Borg, your GM will give you a target number based off of your Control Attribute added to your Security Discipline. You would then need to roll under that number to succeed in hitting the Borg.
The standard task roll is with 2 dice, so difficulty 2 attempts are always possible. If a character wants to add more dice to their attempt pool, they can either spend Momentum tokens, or take on Threat tokens.
Momentum is gained for every success above the target number. So, if you hit that Borg three times, you would gain one momentum. You could then spend that momentum later to get another die added to your task die pool.
Threat has the same mechanic, but you earn it by handing the GM a threat token, which they can use for non-player characters in the same way your character uses momentum!
Damage is figured out with the special Challenge dice, and special effects can be triggered if certain symbols show up in the die roll.
THE CAMPAIGN
"A Star Beyond the Stars" is a 49 page campaign book, which is broken down into three interconnected sessions. The campaign was created to use only the contents within the starter box, which is a nice touch.
"A Star Beyond the Stars" does an excellent job of introducing the game master and players alike in how the game works. I would advise that game masters read through the rule book before diving into the campaign book, but don't worry too much about memorizing the game mechanics; the campaign book does a great job of helping you through all of the systems at play in the game.
The mission is a lot of fun, with the crew trying to take back an experimental Starfleet ship. There's a lot of mystery and intrigue throughout the campaign, and it does a great job of helping the GM work through the game mechanics.
The end goal of the campaign book is to have players and game masters ready to tackle the main Star Fleet: Adventures rules set, and the Starter Box does exactly that.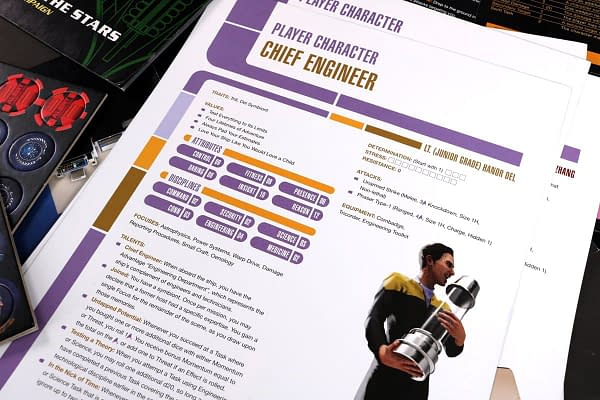 SUMMARY
I'm a huge fan of starter sets for role playing games. They give you a low-cost way to "test drive" the rules to a game to make sure it's something you want to get in to before you invest the big bucks on the inevitable library of rules that the main game will support.
Modiphius Entertainment does a fantastic job of presenting a fresh role-playing game system that immediately evokes everything great about Star Trek, with great art, wonderful design, and a game mechanic that is easy and fun to learn by playing the included campaign.
Beyond this Starter, you can branch into the larger system, which has rules in place for games in the Enterprise, Original Series, or Next Generation (including Deep Space Nine and Voyager) timelines, so if you want to fire up an old Constitution Class cruiser and explore the Neutral Zone, you can.
The Star Trek: Adventures Role Playing Game Starter Set comes highly recommended, especially for fans of the venerable science-fiction series. If you've been looking to Boldly Go somewhere cool with your gaming group, you really can't go wrong here.
---
---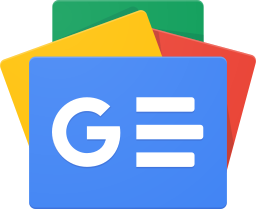 Stay up-to-date and support the site by following Bleeding Cool on Google News today!