Pearl Abyss revealed today that both the Xbox One and PS4 versions of Black Desert are getting a new character added to each version of the game. The Xbox One version will be getting the Kunoichi while the PS4 version will finally be getting the Valkyrie. On top of the PS4 news, players can get a new weapon and combat style unlocked through Vakyrie's awakening event. All you have to do is reach Level 56 and you can get their new weapon Lancia. WHich comes with a new set of combos that deal massive amounts of damage.  Here's a little more info on both characters and what they'll do in your version of Black Desert.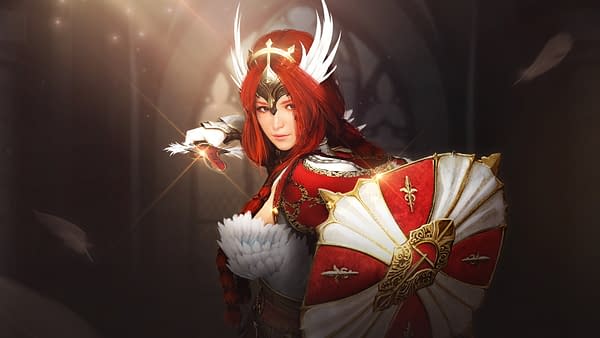 Kunoichi, the Mistress of Blades, has finally come to the Xbox, possessing a kunai shortsword and the following skills:

Flash Slash – Kunoichi disappears and unleashes powerful hits upon her enemies.

Kuno Stab – Using her elite reflexes, the Kunoichi uses her Kunai to stab the vitals of her enemies, rendering them useless.

Ninjutsu: Shadow Explosion – The Kunoichi draws power from the shadows and unleashes an explosion in front of her, knocking back opponents.

Tragic Blade – The Kunoichi deceives her opponents to think that she is vulnerable, and during their next attack she picks the opportune moment to strike a killing blow.

Tomorrow, the much-anticipated Valkyrie, Elion's Chosen, will be released for players on the PlayStation 4. Armed with both a sword and a shield, she boasts an even assortment of offensive and defensive capabilities. She comes with the following skills:

Celestial Spear – The Valkyrie raises her sword to the sky can calls down a spear thrown by Elion himself, knocking Valkyrie's foes to the ground.

Judgement of Light – The Valkyrie calls out for Elion to deliver his final judgement on those unworthy. The power of the blast causes enemies to bounce high in the air, dealing an incredible amount of damage.

Sacrum Ferit – Using her powerful shield to open up the enemies defences, the Valkyrie lunges in with her Lancia, piercing through multiple enemies.

Hastiludium – The Valkyrie charges into the front lines, hitting all those in front of her with her powerful Lancia attacks.
Enjoyed this article? Share it!