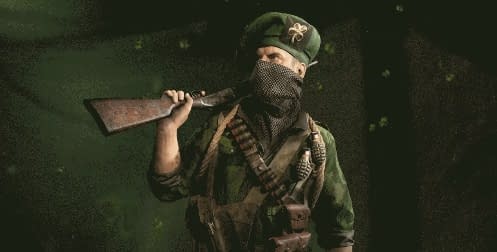 If the quirky costumes of the St. Patrick's Day Shamrock and Awe event haven't given you enough reason to pick Call of Duty: WWII back up, Sledgehammer Games' latest addition to the game just might do it for you. The game has received a new free map, which is now available to all players, and it might just be a familiar sight to the average COD fan. The new map is called Shipment 1944, and is a remake of the classic Call of Duty 4: Modern Warfare map of a similar name. The choice to add a remade Modern Warfare map should come as no surprise since Modern Warfare 2 is getting an HD remaster.
The free map is part of the St. Paddy's event, but is a bit less shamrock-encrusted than you might expect. In Shamrock and Awe, players have a chance to ear double XP through the Leprechaun Hunt Moshpit playlist that ends on March 19th at 10 a.m. PDT. The playlist can be run in several game modes including Domination, Hardpoint, Kill Confirmed, and Team Deathmatch. In every Leprechaun Hunt match, a zombie leprechaun has been let loose on the map, and killing it nets your team a ton of points.
The Shamrock and Awe event itself will continue through 'til April 3rd.
Call of Duty: WWII is available on PC, the PS4, and Xbox One. You can check out the new map in the highlight video below.
Enjoyed this article? Share it!