Call Of Duty: Black Ops 4 Clothing and Shoes by SUPRA Footwear
A few weeks ago, we got a very awesome and surprising package of clothing for review as SUPRA Footwear, who made gear for Call of Duty: Black Ops 4. We got a few different items that looked pretty cool from their Limited Edition Capsule Collection, so we tired them out to see how well they hold up. The first item out of the box is this Coach Jacket. It's a pretty sleek model that's meant more for casual wear in the Spring and Fall and worked well against having protection in the rain. You get the SUPRA logo on the left chest and the Black Ops 4 text down the right sleeve.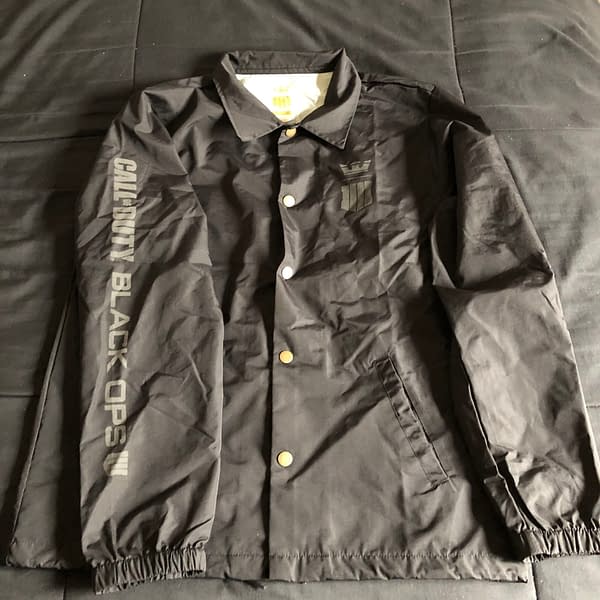 This particular jacket had a couple of front pockets and was a button-up model that worked for the purposes it was designed for. It's a thin jacket and very lightweight, the kind you could basically fold up and fit into a pocket on a backpack. For some, that's pretty attractive. For others, not so much. It kinda depends on what you want from a jacket. This is going for $50.
Next up, we take a little detour, as we look at this fitted flat-brimmed baseball cap from 59Fifty. The one whole item in the box that wasn't from SUPRA, but it's still a Call of Duty item, so we're giving it a review here, too. This is some excellent quality when it comes to ballcaps. I own a few fitted from 59Fifty, they always work well, but this one feels like it's a slightly finer quality than others I've received in the past. This one has the BO4 logo on the front, orange decal on the side, and your standard decoration on the inside. This is a badass little hat that I was stoked to get and will be wearing it all around. Great quality from the company and no real complaints. Last we checked, this hat was going for $45.
Back to the SUPRA gear, we have this Blackout Hooded Sweatshirt. When it comes to hooded sweatshirts, you gotta look at them in a different light than hoodies, because they're just not hoodies. This is thicker, warmer, built for bad weather all around, meant to give you easy access to your stuff from a two-hand pouch in the front. Like a jacket before you got branding on either arm with a logo on the left and lettering on the right.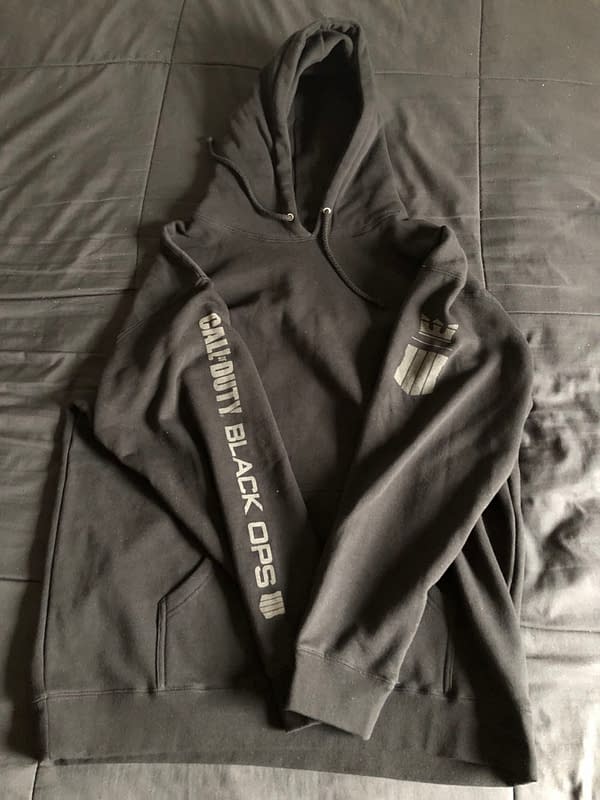 I found this item a lot better in the weather compared to the jacket, it feels like I could go out in the middle of a snowstorm with it and have some protection where the jacket wouldn't serve me as well. The pouch can be a little flimsy on the front, depending on what you're packing away, and it's a little too baggy for it to be a proper hand-warming area. That said, it's a quality hooded sweater and it works well in the cold.
Finally, the item we could call the best of the bunch, we have these Blackout Factor shoes. These things are absolutely cool but deceitful. First up, they may have laces, but they don't lace up. You pull these on like they're a pair of sports slippers. The mesh cloth on the top gives your foot some freedom rather than being constricted by a bunch of leather, so these shoes feel like they breathe as you walk in them. The laces are here to throw in a tighter bond if you absolutely need it, but after walking and running around in them, you really don't need them if your foot is a perfect fit.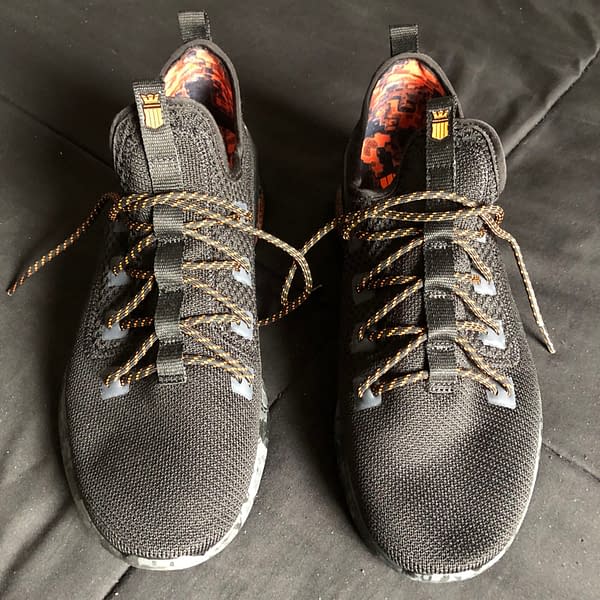 The outer camo appearance, the orange camo inside, the traction on the soles; these were meant to be a mix of casual wear that you could also get your game on in. They're not hardcore sports shoes, but if you suddenly find yourself in a situation where you need to go run for something or find yourself in a quick game, they'll serve you well. These are some amazing shoes. So amazing, they're currently sold out. But when they hit the market again, they were going for $80.
Overall, we're impressed with the SUPRA gear they made for Black Ops 4. Sure, not everything is a winner, but that's totally okay. Like all of your opponents in the middle of a match of Blackout, not everything can be. But there's a little something here for everyone instead of a focus on just one specific thing, and that's always good for a gaming audience because different players have different tastes. If you're looking for some awesome branded gear, these are some primce choices.