Call Of Duty: Warzone Hosts Another Multiplayer Free Access Weekend
Activision and Infinity Ward announced that Call Of Duty: Warzone will be hosting another Multiplayer Free Access Weekend. Starting today and running through April 27th, you can play Warzone on a few select maps. The entire online community can face off in an all-new Multiplayer Moshpit, take on each other in the 6-v-6 multiplayer modes on five maps, which includes three of the new Season Three maps. You can read more about those three maps below, and more info on the free weekend here. The event will officially end at 10am PDT on April 27th.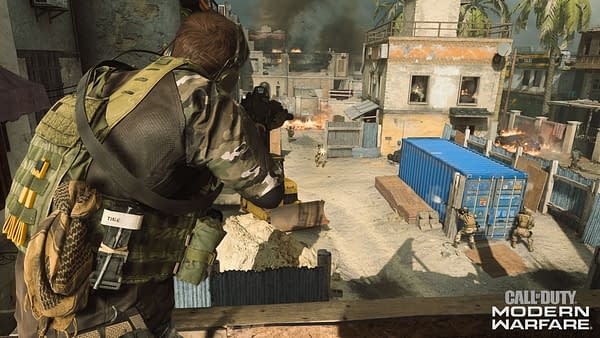 Call Of Duty: Warzone – Aniyah Incursion

Aniyah Incursion is a smaller, 6v6 version of its massive, palatial cousin. Here, combat is contained to the central palace atrium and courtyard, for a tight, close-quarters fight. From our tactical map guide: "Aniyah Incursion rewards all styles of play, from CQB loadouts shooting it out in the palace to sharpshooters exchanging shots over and through the streets. Success goes to the Operators who can best navigate the royal terrain and outflank the opposition." For full gameplay tips, including an illustrated guide to each map zone and information about objective locations, read our official guide here.

Hovec Sawmill

This brand-new Season Three map is set in a sleepy Kastovian mountain town. Despite the quaint surroundings, there is a crisis: the central sawmill building has caught fire. Fight through the burning wreckage, and between shops in the village square. If you pass the beekeeper's, watch out for live hives! From our tactical map guide: "Although this humble town is beautiful….Sawmill is a dangerous 6v6 map with opportunities for all playstyles to shine. Here, you can expect everything from cross-map sightlines to rooftop engagements and interior skirmishes, with objective game modes forcing players into chaotic battles while surrounded by gorgeous scenery."

Talsik Backlot

Based on an iconic map from Call of Duty 4: Modern Warfare, Talsik Backlot features the fan-favorite, multi-story combat and sprawling village lanes beloved by players for years. Now set in an empty Urzikstani city, 'Talsik Backlot' features a massive but abandoned construction project at its center. Expect dense, door-to-door combat as teams fight to control overlooks, rooftops, and buildings. From our tactical map guide: "[A] construction company's latest project is now idle in the middle of Urzikstan due to the growing conflict….Talsik Backlot is a medium sized, building dense map that is suited for 6v6 playlists. The diversity of zones within this map opens the opportunity for all playstyles to be viable. "