Capcom Previews Street Fighter 30th Anniversary Collection Training and Versus Mode
As part of the lead-up to Street Fighter 30th Anniversary Collection being released on May 29th, Capcom has started releasing more details as to how the game's different modes are going to work, including a new post today about both Versus Mode and Training.
The company released a brand new blog entry today that goes over how both modes will affect all 12 games in the collection, which will cover every single Street Fighter title released between the original and Street Fighter III: Third Strike. It appears only four games in the series will have online fighting, but all 12 will give you the ability to basically play the game however you see fit — locally or online.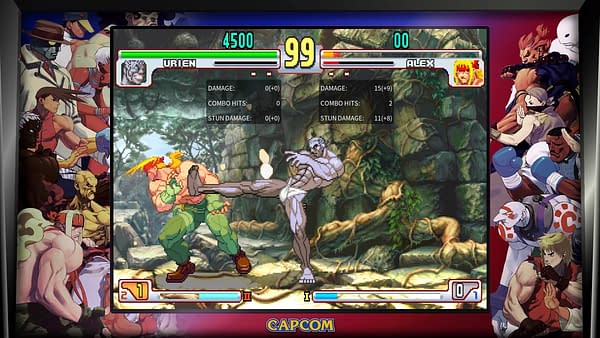 Having a dedicated Versus Mode where you can choose your characters and stage is a mainstay for modern fighting games on console. That's why all 12 of these games will have a local Versus Mode where two players can duke it out against each other! Upon selecting which game you'd like to play Versus in, you'll then be given a choice of which stage to play on. To add some extra flavor, each of these stages is labeled with which character originated from it. For example, in Street Fighter Alpha 3, the House of Mystery – Palazzo Mistero, Italy is labeled as Rose's stage. After each match, you'll have the option to rematch, as well. If you choose to not have a rematch, you'll be taken back to the main Versus screen where you can choose which of the 12 games to play.
Meanwhile, the four games that will have online play (Street Fighter II: Hyper Fighting, Super Street Fighter II: Turbo, Street Fighter Alpha 3, and Street Fighter III: Third Strike) will also include training modes to help you perfect your game, with different levels of expertise for you to hone your skills and become a master at the game.