Back in April, we had the chance to review a Nintendo Switch case from WaterField that worked out pretty well, and ever since then, we've been interested to see what other products they were set to make for the console. A few weeks ago we received the Arcade Gaming Case, just in time for the holidays when people are spending money like crazy on brand new Nintendo Switch systems.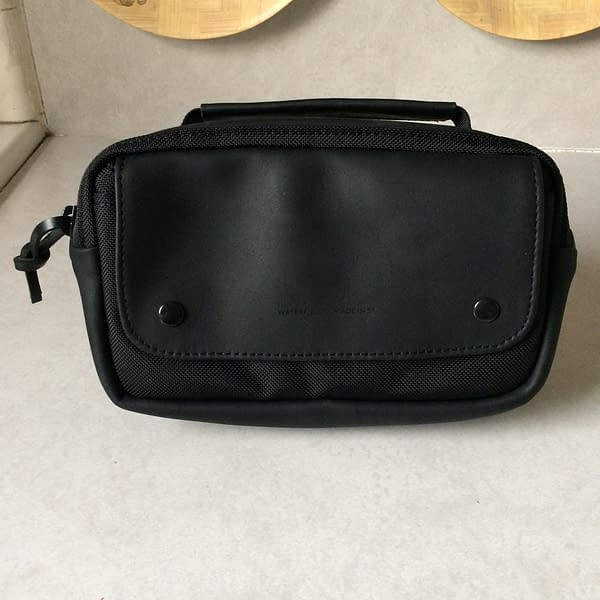 The case is made from a black ballistic nylon and leather to protect whatever electronics you may have inside from water damage. It comes with a handle across the top for easy carrying, along with an easy-to-access pocket with a flap on the front, and sealed zippers to prevent water from getting through the teeth. The front pocket is held shut by two magnetic buttons, and when opened up, can store two or three games inside the case. Ther are other items you could put in here like cartridges or other flat materials you may want to carry with you.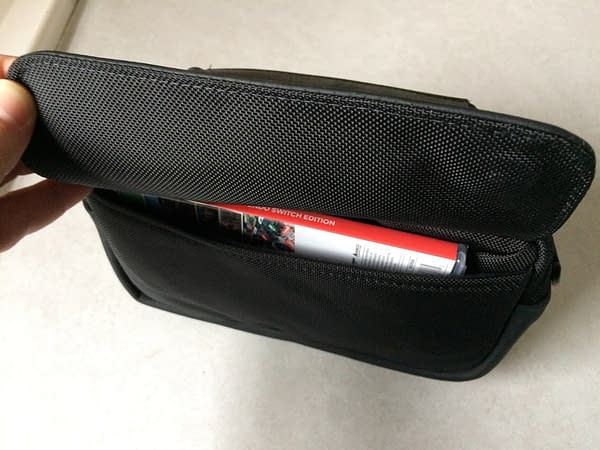 Inside it has this lovely gold hexagon pattern that feels mildly soft, surrounded by these padded pockets. Ideally, these are designed to keep three specific items inside, with the first two being the Nintendo Switch monitor in the long pocket, the joycons in a second pocket, and whatever accessories you need in the third. The third is big enough to hold a pro controller, the slider controller for the joycons, the charging cord, or maybe some additional game cartridges you'd like to carry inside. These are well built and super soft so that not only are they protected but will remain undamaged inside the case.
In case you don't like lugging it around by hand, the case comes with a shoulder strap that can be connected by two snaphooks onto the D-rings on the sides. It has the feeling of a small pouch or purse, but lightweight enough to where carrying it on your shoulder isn't a burden. I enjoyed that little addition as I now have an option of how I want to carry it around, depending ont he situation at hand.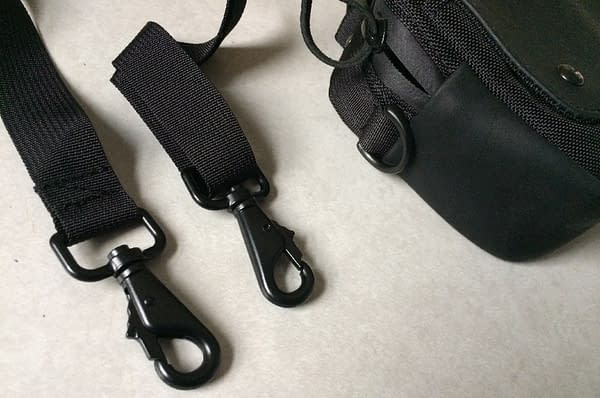 I really enjoyed this WaterField case. It's simplistic and protective, it looks great in black with a couple other color option on their website, it makes carrying around the Nintendo Switch feel less like a burden and more like a portable device. I don't really have any complaints about the way it functions or is designed. Some people may balk at the $110 price tag attached to it, but keep in mind that you're basically paying for mobility and security to make sure it isn't busted up when moving it around, so the price is pretty decent considering what the case itself is made of. I highly recommend it if you want something a little more sophisticated and protective, but be aware, that comes at a price. Enjoyed this article? Share it!