Catching Up With the Folks From DropMix at PAX East
During our visit to PAX East last week, we got to check in with a few people here and there that we've chatted with before. One of those groups was the team behind DropMix, as they had a few things to pass out and show us. First off, we got these two convention exclusive cards you see below with the Pyre soundtrack and the G.I. Joe main theme song remix, both of which can be played into any slot on the board.
The second, which we posted the details below from the PR they sent us during the event, includes a new card set coming out as well as updates to the app that involves gameplay, which went live on April 2nd if you haven't checked them out. There will be new sets coming in the summer, but we weren't given many details about those. After that, we spent the rest of the appointment creating mixes for people to check out as they passed by the booth. Always good fun with these guys!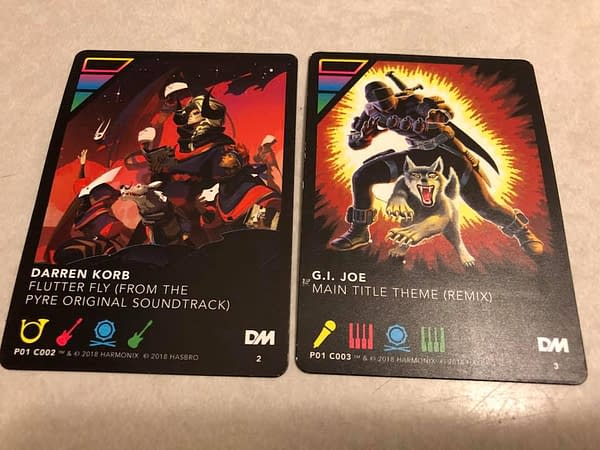 CHILLER – our upcoming Dance / Electronica Playlist Pack – we be available for pre-order and will ship on May 21. This 16-card pack includes hit songs including Afrojack "Take Over Control" (ft. Eva Simons), CHVRCHES' "The Mother We Share", Jason Derulo "Want To Want Me", The Chainsmokers "Closer" (ft. Halsey), ODESZA "Say My Name" (ft. Zyra) and James Landino "Break For Me".

DropMix App Updates

o You can now set a turn timer in Clash for fast-paced play. If time runs out before you use all of your actions, your turn ends automatically.

o If you accidentally hit the DropMix button in Clash, you now have a few moments to hit it again to cancel the Equalizer spin.

o Ability to choose difficulty settings in Party mode. You have to play faster on higher difficulties, but you can also earn more points.

o Party scores are now saved in a high score list. When you set a new high score, you can name your score to keep a record of your best parties.

o When you save a video, you can now choose to record a full-length mix and export at a higher resolution.