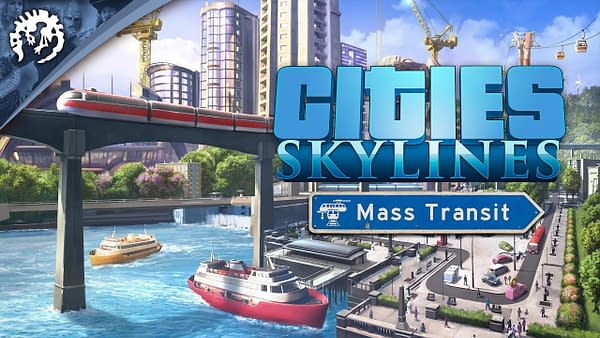 Paradox Interactive announced today that the Cities: Skylines Mass Transit expansion is now available on Playstation4, Xbox One and Windows 10. Mass Transit is one of the best-selling expansions for the PC edition of the game, as it puts all sorts of new transit options, systems and scenarios into play. Now console players' citizens can commute through land, sea and sky, with ferries, monorails, cable cars, blimps and more. This expansion also features new transit service buildings and hubs, new road types and landmarks, and endless urban-planning challenges.
Key Features of the expansion include:
Sick Transit, Glorious Money: Add a wealth of new transit options to your city, and add wealth to your city's income! Let your citizens get across town in ferries, blimps, cable cars, and monorails!
Orderly Hub: New mass transit hubs can bring all of your services together, letting citizens change rail lines in one building, or hop from the bus onto the ferry, or even find their way through a sprawling monorail-train metro station.
Become a Roads Scholar: Explore a set of new scenarios focused on solving traffic problems and adding new transit systems. New road types, bridges and canals add variety to your city, and new ways to solve its challenges. Become an expert in traffic flow, and then use that knowledge to improve your city!
New Hats for Chirper: NEW. HATS. FOR CHIRPER. (And also new unique buildings, policies and achievements. But HATS!)
Today's coinciding free patch is also chock full of new transit-centric content, including updates for naming roads, road adjustments and route info view with transit types, visual aids for road building, new intersection settings (yield rules, traffic lights and priority roads), toggling between local and intercity train stations, public transport info view additions, improved emergency vehicle logic, citizen modding and more.
You can check out the expansion below.
Enjoyed this article? Share it!