Creepy Tale Will Be Released On Nintendo Switch This Month
Some cool news from No Gravity Games as we will see Creepy Tale makes its way onto the Nintendo Switch next week. Developed by Deqaf Studio, the game originally dropped on PC back in February 2020, earning some positive reviews for the way they incorporated storytelling and puzzle-solving into this uniquely animated tale. Now the game will drop on July 10th, 2020 into the eShop for a mere $8. You can read more about it below along with screenshots of the game, as well as the latest trailer showing off what it will play like on the Switch when it comes out in a few days.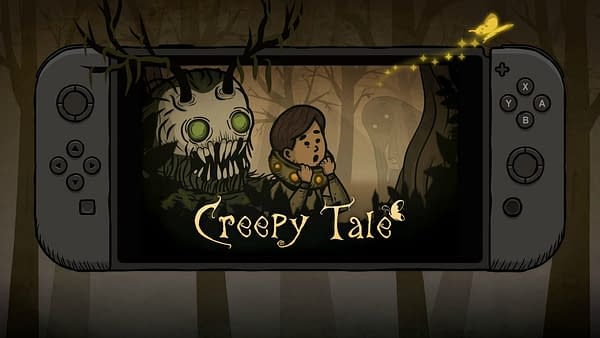 While walking with your brother, everything turns into horror and drags the hero into a series of terrible events. Your brother has been taken by inhuman beings, and you are left face-to-face with an ominous forest filled with dangers and strange creatures. Solve the puzzles that you meet on the way, do not let yourself be caught, and save your brother! Find out the dark story that befell the once-calm and peaceful forest, turning it into a terrifying place filled with otherworldly evil. Perhaps it is you who will solve all the secrets of the forest and restore the peace… but don't get your hopes up.

Unusual puzzles with unusual solutions.
Elements of a classic quest: collect items and use them in a wide variety of cases.
Hide, run away, jump high, lure, distract and even… learn to play the reedpipe!
A unique and beautiful 2D art will take you to a dark tale and will send shivers down your spine.
Surreal audio design matching the otherworldly story and gameplay.