Critical Role's Darrington Press Releases Till The Last Gasp
Darrington Press has released a brand new board game, Till The Last Gasp, sharing roleplay elements from the minds of Critical Role.
---
Darrington Press, the tabletop publishing wing of Critical Role, has released a brand new board game called Till The Last Gasp. The game is basically a multiverse of scenarios as you and an opponent will square off in a roleplaying battle, featuring multiple scenarios and characters where you will essentially play out the final battle between two foes. The game was designed by Will Hindmarch (Gameplaywright, Hookseed Vol. 1) with additional design by Alex Roberts (Star Crossed: The Two-Player Game of Forbidden Love, For the Queen), as it was created to be about an hour's worth of fun gameplay for small groups, game nights, or dates. We got more info on it below as it is currently being sold for $40.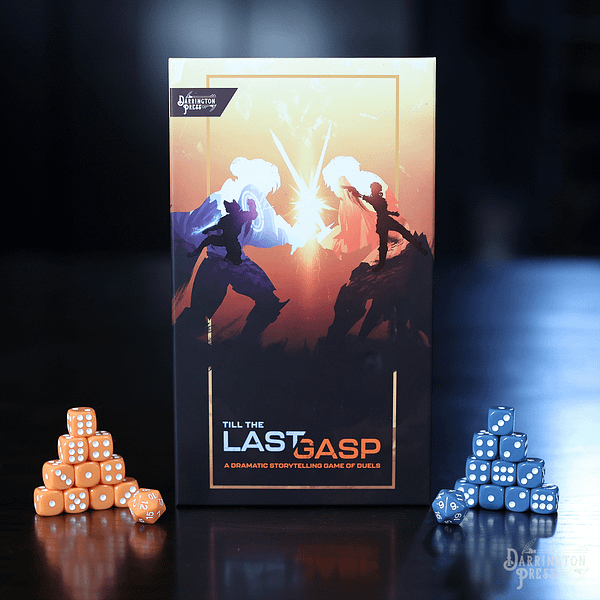 "Till the Last Gasp is a dramatic storytelling game of duels that throws you straight into two-player PvP action—and as blows are exchanged, emotions are betrayed, secrets revealed, and stakes raised. Till the Last Gasp uniquely enables you to capture the climactic energy of your favorite cinematic showdowns, in new tales imagined by you! Everything you need to play comes in the box, enabling you to create original settings and characters from your wildest imagination or jump right in with our three pre-made scenarios, 12 pre-made characters, and 9 maps as backdrops to your legendary duel. Stakes not high enough? The Drama Deck will heighten your play with prompts designed to antagonize your foe, bare your soul, cause chaos and more.
DESCRIBE AND DRAMATIZE: Till the Last Gasp draws steel and goes for the heart! This is a storytelling game as much about your character's innermost feelings as it is about armor or weapons. A duel flourishes to life with the drama you bring to each move. Reflect the heat of your conflict in your surroundings: smash vases, swing from chandeliers, scar machinery with laser swords.
DUEL IN ANY SETTING: Play fist-fighting monks, gunslingers on a windswept plain, high-tech laser sharpshooters, and wielders of the arcane arts! Till the Last Gasp can accommodate nearly any setting and a wide variety of genres and characters. You can even import characters from other storytelling games or media you love! It is a game of two characters locked in conflict, discovering something deep at the heart of it.
DIVE RIGHT IN: All you need are two players (and an optional facilitator), the box, and your imagination to play. Create new characters and worlds on the spot, or use its ready scenarios for quick no-prep play.