Crystal Dynamics Confirms Captain Marvel Exists In "Marvel's Avengers"
An interesting bit of news from the weekend as it appears Captain Marvel does indeed exist in the upcoming Square Enix game Marvel's Avengers. In an interview with Comic Book, they spoke with Crystal Dynamics' Head of Studio Scot Amos, as well as their Narrative Designer Hannah McLeod, about the game. Part of the interview had them asking about Captain Marvel, since Kamala Khan, the current Ms. Marvel, has the Cap as one of her heroes. And while they wouldn't officially say she was in the game, they said enough to confirm that she does indeed exist in this universe. Here's a snippet from the interview: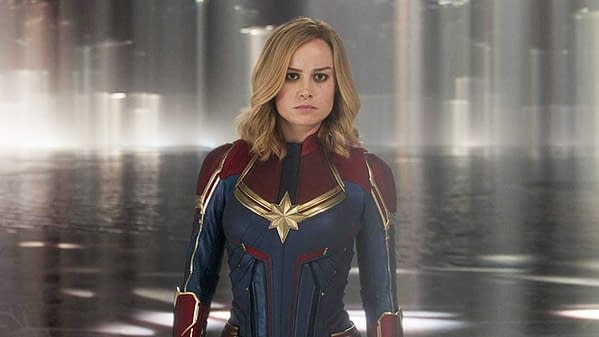 "Well put it to you this way, Kamala can't be a fan of someone who didn't exist," Amos said.

Cap also came up when McLeod was describing Kamala's power set and the character's love of superheroes, which is very much alive in the game world as well.

"Speaking of those polymorph powers, Kamala's powers have to do with stretching and morphing her body into crazy shapes," McLeod said. "She can also grow to amazing heights, or as she likes to call it Embiggen. These powers introduce a totally new element to our game and make our combat and exploration completely unique. And before you ask, Kamala still writes fan fiction. She still knows everything there is to know about the Avengers and yes, Captain Marvel is still her favorite. That is something she and our players have in common. They love these heroes."
Whether or not she'll be a playable character is an entirely different discussion. We're guessing no, because if she were, we're pretty confident Square Enix would have hyped that decision by now. It wouldn't surprise us if we saw a mention or maybe a fly-by in the game, but since the main focus is on the main cast from the films, we're guessing she won't be in the picture much, if at all.