"Dead Or Alive 6" Receives the King of Fighters XIV DLC Today
Koei Tecmo is finally adding the King Of Fighters XIV DLC to Dead Or Alive 6 today as players can now fight as either Mai Shiranui or Kula Diamond. If you paid the $93 for the season pass, you'll automatically get both characters today. If you're looking to buy them individually, here's what you're looking at price-wise. You can purchase them together for $8, they also have costume packs available for $3 per fighter, which includes the standard stuff of wedding dresses and weird bunny outfits. There's also a special character and costume bundle to be offered that includes both characters complete with five outfits each for $16. While we're always in favor of seeing new DLC characters added to any fighting game, this is basically here for people who are into King Of Fighters and want two more women to add to the mix. Enjoy their descriptions and the teaser video below.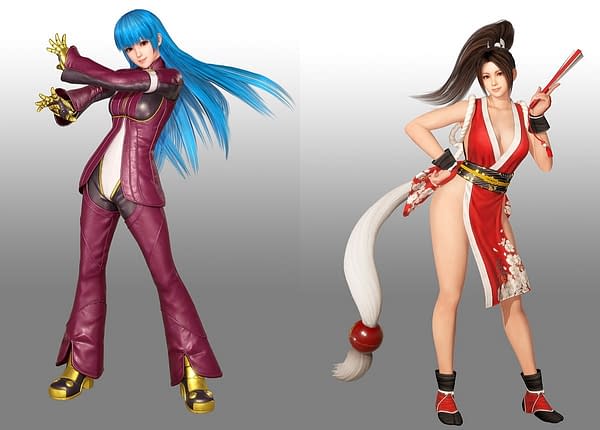 Mai Shiranui, known to King Of Fightrers fans as "The Alluring Ninja," is a kunoichi (female ninja) and the successor of the Shiranui style ninjutsu. The nimble fighter uses large fans as weapons, generating flames from attacks as she shows no mercy on opponents mesmerized by her flashy attire.

Joining Mai in Dead Or Alive 6 is "The Ice Doll," Kula Diamond. Diamond favors quick strikes and unexpected transitions to special attacks through the use of cancels. She has the power to utilize ice in her assaults, taking advantage of frozen opponents thanks to her ability to instantly freeze water particles in mid-air. A modified human created by the NESTS organization, Diamond's conception has come with complications – including an odd addiction to candy and the fact that she appears much younger than her actual age.