"Dead or Alive 6" Welcomes Santa's Helpers with New Costume DLC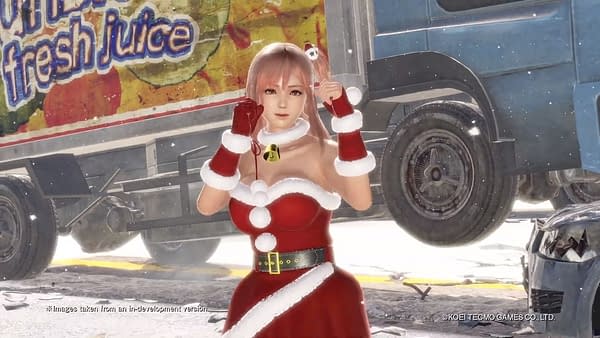 Dead or Alive 6 is always rife with a slew of costumes to outfit your favorite fighters. Now, there's a holiday-themed pack you won't want to miss out on.
The latest Dead or Alive 6 DLC is the holiday-themed Santa's Helper Costume Set, which consists of a whopping 28 outfits, for $1.99 apiece. If you'd rather not get them in a piecemeal fashion, you can snag them all for $23.99.
Most of the characters' outfits are red and white, just like Santa's, but some are in different colors. Bass, for examples, gets a black and red version. Phase-4 gets a green dress, and Raidou gets a black one only. But at least everyone gets in on the fun, except for some of the DLC crossover characters. Kula Diamond and Mai Shiranui would have looked awesome, though. It's a real bummer.
If you're looking to deck out your favorite characters in festive new duds, this is the way to do it. Besides, you know what makes fighting games more fun is the option to change costumes. These Santa dresses are absolutely adorable, too. You may even find yourself staring face to face at a new cosplay outfit after you see your Best Girl in one. Don't say we didn't warn you.
It's going to be a merry DOA6 Christmas going forward with these special outfits.