Decorating my Nintendo Switch: We Review PDP's Light Up Dock Shield
No insult to the Nintendo Switch or any of the other consoles, but have you noticed how bland they look on the outside. The Switch, when docked, is basically just sitting inside a case being hidden. Now sure, I could slap some stickers on the front of it like I did my NES, SNES, N64, and Game Cube, but we're living in 2018 and we can do better than stickers. PD thought so to and decided to create the Light Up Dock Shield for the Switch, which is officially licensed by Nintendo.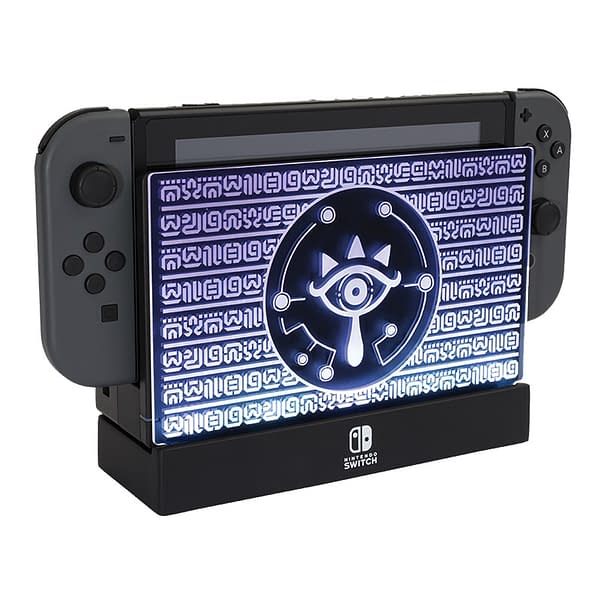 The Dock Shield itself is not a complicated piece of tech. It consists of three pieces: the base, the screen, and a USB cord. You take the base and set the Switch Dock on top of it, then you slide one of the two screens that came with it into the front slot, which are both Super Mario Odyssey and The Legend of Zelda: Breath Of The Wild. Finally, the USB cord plugs into one of the two USB slots on the back of the Switch Dock. Something like this you'd think might heat up, but it actually doesn't. It utilizes six small LED lights in the front only so it lights up from below, making heat a non-issue. There are three buttons on the back to turn it on, change color, or make it move in a certain pattern like fading in and out or slowly morphing into different colors.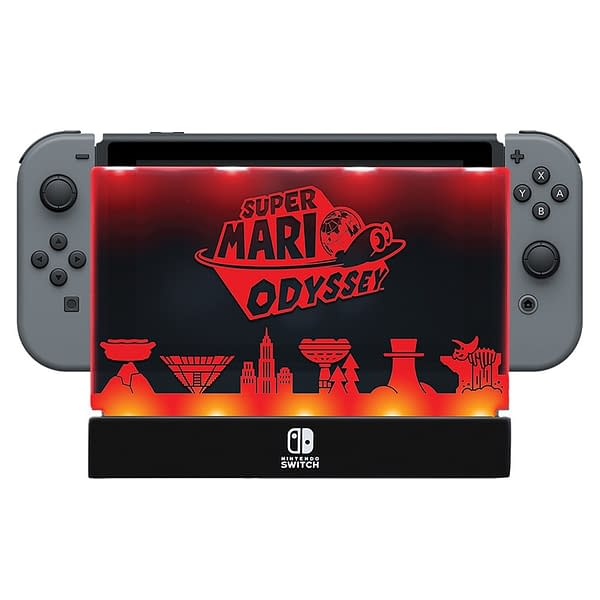 The Light Up Dock Shield is a pretty simple piece of tech that serves as both fun eye-candy for the Switch and can also be a night light of sorts if you're playing int he dark. The unit is $20, which depending on how you feel about items like this, could be pricey or super cheap. Basically, it's for people who want to make their Switch pop and be decorative, no matter what time of day.