Donkey Kong Will Be Coming to Mario + Rabbids Kingdom Battle in June
Some cool news from Ubisoft today as they finally revealed when Donkey Kong would be joining Mario + Rabbids Kingdom Battle. The next DLC called Donkey Kong Adventure will be hitting the Nintendo Switch in June. The company didn't put an official date on it, but they did release a new trailer for it today along with a description, both of which we have for you below.
The mode itself is pretty cool as you'll be playing as DK along with a Rabbit that looks to have embodied the spirit of Cranky Kong and the Princess Peach Rabbit from the primary game to make a new three-person team. Which means the challenges won't be as difficult as before, but since you now have two characters with new powers, you'll have to approach these new situations differently. We look forward to playing it when it gets released next month.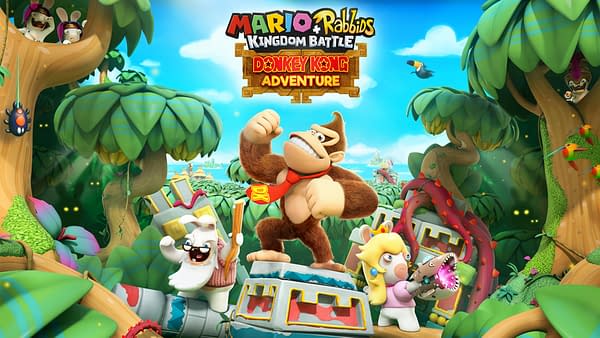 Embark in an epic battle against a vengeful Rabbid Kong who uses his new powers to take over a mysterious island. Donkey Kong, Rabbid Peach, and a moody new Rabbid hero, Rabbid Cranky, will team up on a journey across four brand-new environments. Discover a world full of reinvented tactical gameplay, new enemies, and secrets to uncover.