Don't Starve: Hamlet is Out of Steam Early Access Today
Klei has announced the release of Don't Starve: Hamlet, the third DLC for Don't Starve. The Hamlet DLC has officially left Steam Early Access today, May 14th.
In this latest DLC for Don't Starve, players uncover a lost town of aristocratic Pigmen nestled within a foreboding tropical jungle. Don't Starve: Hamlet will see players having to use their skills and survival strategies developed in Don't Starve in order to find their place amongst the Pigmen and survive the ominous Aporkalypse.
So, in case you were wondering, this has nothing to do with the state of Denmark, princes, or Shakespeare.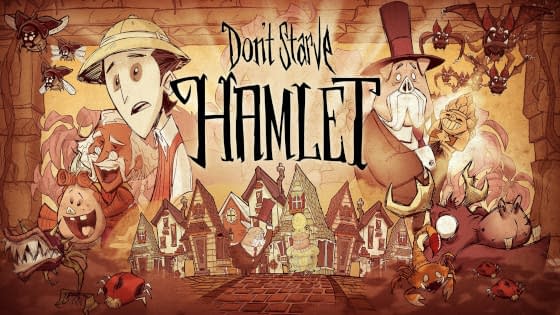 Key features of Don't Starve: Hamlet include:
Reacquainting to city life: Visit shops and trade with the pig society. Players can purchase and renovate their own home.
Delving into ancient ruins: Explore the lost world of an ancient pig civilization filled with traps and try your hand at treasure hunting.
Exploring new lands: Discover the secrets of new wildlife and seasons.
Crafting and experimenting: New ingredients and recipes to help solve unique new problems this new land brings.
3 new characters:

Wilba – Daughter to Queen Malfalfa, Princess Wilba has the love of her people. If only she wanted the job.
Wormwood – Who knows where this creature of nature came from, but he'll likely grow on you.
Wheeler – A gutsy aeronaut whose latest adventure has blown off course.
In addition to the trials and treasures that await players in Don't Starve: Hamlet, there's a surprise new character for all players that own a copy of Don't Starve. The reckless inventor of curious contraptions Wagstaff has now arrived in the Constant.
You can check out the promo trailer for Don't Starve: Hamlet below.