Epic Games Confirms They're Shutting Down Rumbleverse
With very little fanfare, Epic Games has made the call to call it quits on Rumbleverse, shutting down the servers in February.
---
After having the news leaked this morning, it was confirmed by Epic Games this afternoon they are bringing Rumbleverse to an end. This morning, Tom Henderson, who is a reliable insider source for gaming news, simply wrote, "Epic Games' Rumbleverse will be shutting down at the end of February." But didn't offer any further details on how he found out. About an hour ago (as of when we're writing this article), the news was confirmed by Epic and developer Iron Galaxy Studios, letting fans know the last update was going out today and that the servers will shut down on February 28th at 8AM PT. We have the bulk of the official announcement below.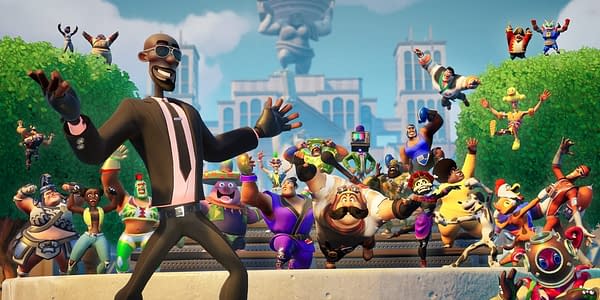 "Iron Galaxy Studios and Epic Games are very sorry to share that Season Two will be the last for Rumbleverse. This project has been a labor of love to create a new experience in a popular and highly competitive genre for games. If you've been a part of that journey, we thank you – whether you jumped into the first playtest after our reveal, or just shot yourself out of the cannon for the first time. Any player who has spent money on Rumbleverse is eligible for a refund of money spent on or in the game. This includes the purchase of a Rumbleverse Battle Pass or Brawlla Bills on any platform. We will share a FAQ page with additional refund information soon."
"Later today, we are deploying the final update to Rumbleverse. We are closing the store and opening the full experience to every player. The current Battle Pass will be granted to everyone. Your XP gains will be doubled so you can fast-track unlocks for every rank. Quads, Trios, Duos, and Solos will be live and we've unlocked additional accessories and emotes in the game for free as well. There is still fun we can have together before the sun sets on Grapital City. The remaining weeks will be a chance to celebrate the competitive spirit you've brought to this game. There will be more livestreams to play some games with the developers and let them pull the curtain back to share some behind-the-scenes moments from the creative process that built this city. We're so grateful for the players who have joined us in the Rumble. Thank you."