Familiar Settings and New Options: We Review Pathfinder on Roll 20
Roll 20 has primarily been known for the work they do with Dungeons & Dragons over the years, along with several other tabletop games, in providing a digital playing area with all the accessories needed to pull off the game in one application. But the latest addition should make people who may have branched away from D&D a number of years ago happy as Pathfinder is now a part of the platform. The company recently added all the items and mechanics you need to run a session, along with a campaign in the form of "Crownfall". We got ourselves a copy to test out and see how well the game transfers over to a digital side.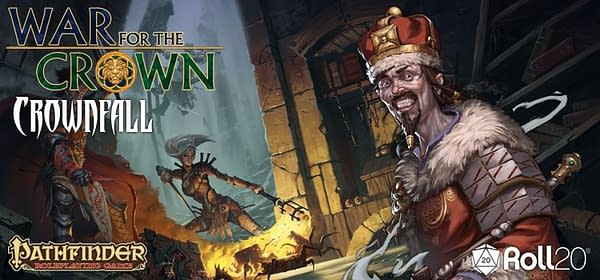 First off, let's start with the design of the game in general. Everything you would expect from adventure modules, guides and companion pieces are here in their full glory with great detail went into making them look as well as they do both online and in print. The added bonus is that because you're working with an adventure-building interface, specific sections have been highlighted like you can see below, so all you need to do is click on them and instantly interact with what you have. Specifically, when working with Crownfall, you're dealing with an adventure that's catered to Level 1 players, so everything has been laid out so beginners have an easy time looking up what they need to know while experienced players can jump in almost instantly.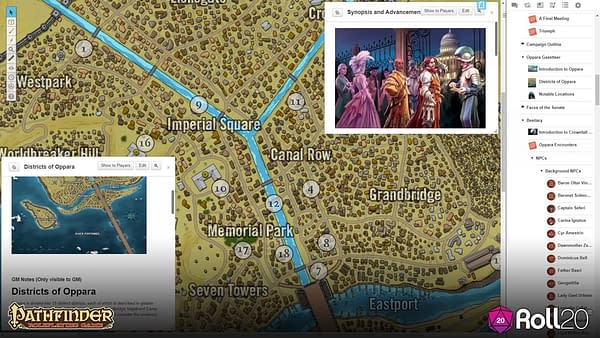 The mechanics as far as gameplay are some of the best we've seen with Roll 20. All the creatures look and behave as they're supposed to in the physical edition, treasures and objects are easy to parse out and equip, guides are very interactive as far as what you can and can't see depending on what your GM allows, and pretty much every moveable object is interactive to some degree making it easy to navigate and place. The dice in this game, as best we can tell, roll fair. There's no way to tell how the RNG system works, but we do know that if you roll a D20 twenty times, you won't get all 20 numbers before a repeat, sometimes you'll roll two of the same in a row, sometimes you get high and low rolls, and natural 20's and 1's come at a general unpredictable pace.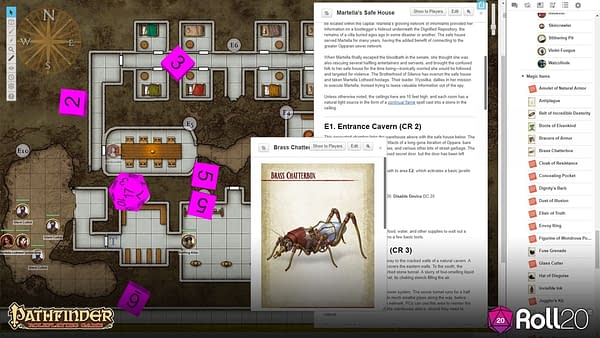 The map layout is hit and miss. Like a lot of tabletop games, much is left to the imagination. As much as you can sit down and draw a castle filled with cobwebs and rusted armor, there's a certain point in time where your own imagination needs to take over. There are a few different assets in the game to give the impression of what you're looking at, but for the most part you'll be seeing the same sets of squares used over and over for movement and room definition. It would have been nice to see some different artwork used in certain aspects so it doesn't all look like we're fighting on pre-built rooms sitting on white squares, but maybe for a future update.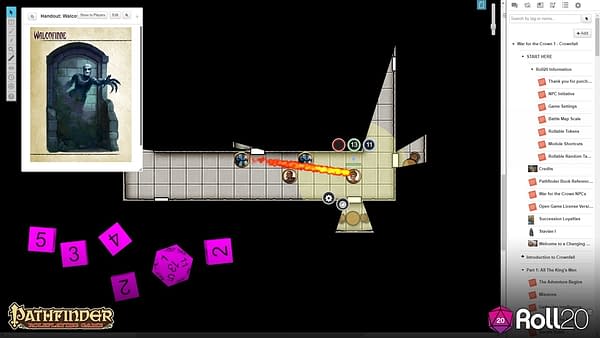 The reference guide is limited to what you have in the campaign, which is basically the way it is for a lot of Roll 20 titles. Reference material is on a case-by-case basis, same as the books, so just buying one adventure doesn't give you access to this adventure and a little extra in case you want to make it interesting. If you have the written materials from previous Pathfinder games in your physical posession, you do have the tools to create monsters from scratch the same as your characters are created within the system, you'll just ahve to fill in all the fields yourself and go without art. Or you could copy over an enemy and boost its stats how you see fit. But overall, the random creature and scenario creation is a bit limited for now.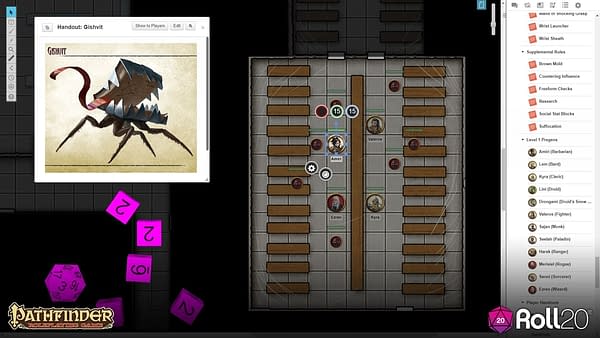 Overall, I didn't really have any issues with the Roll 20 version of Pathfinder. Or to be a little more accurate, I didn't have any new issues with it than I would with any other Roll 20 game. Whatever things you love or hate about Roll 20 are still here, it's just looking at it through a new game. That being said, they've done Pathfinder justice up to this point. It'll be interesting to see what happens as they add more resources and plunge into the game's archives for the next few years to come. I say give it a shot if you're a fan of the series and are looking for a way to cut out some of the bulk to the game.