Yes, this is an actual game.
Based on an April Fools' Day joke made some time ago, Barkham Horror: The Meddling of Meowlathotep is a standalone Arkham Horror adventure wherein players play as anthropomorphic hounds instead of their normal, human counterparts. The caveat is that the titular horrors have been replaced with cat versions as well.
From Fantasy Flight Games:
The fate of Barkham is in your paws. For real this time.

The fur will fly in Barkham Horror: The Card Game – The Meddling of Meowlathotep! Inspired by the 2019 April Fools article, this 100% real, playable standalone adventure gives players the chance to step into the role of canine investigators hot on the trail of a catspiracy. Dogs all across town report seeing strange, unnatural cats prowling around Barkham, and each day more and more pigeons are going missing. You've picked up the scent of something big, and once you sink your teeth into a story, you just can't let go. Perhaps if you investigate the areas of Arkham most plagued by these sightings, you can root out the cat‐monsters that dwell within and save your hoomans, your city, and the world.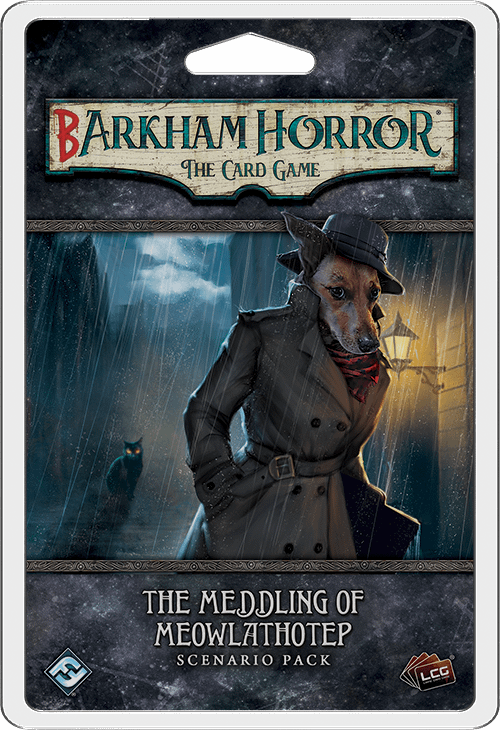 It's valid to note that in order to play this standalone adventure, you will need the core set for Arkham Horror as well, which to be honest, is probably fine – if you were already invested in Arkham Horror at the birth of the joke idea, then it's likely you will have no trouble with that.
What do you think of this release? Has Fantasy Flight Games officially lost their marbles? If I had any authority on the subject, I'd be inclined to say that Arkham Horror has gone to the hounds.
But what are your thoughts on the game? Is Arkham Horror fun? Does it live up to the horrific standard that author H.P. Lovecraft has created? And most importantly, who's a good boy? Let us know!
Enjoyed this article? Share it!