Farming Simulator 22 Collector's Edition Will Be "Coming Soon"
GIANTS Software revealed today that they will be making a Collector's Edition of Farming Simulator 22 that will be "coming soon". This edition comes with a functioning beacon light, a new gameplay feature revealed called production chains, and the first of two new maps inspired by the Midwest U.S. will be introduced in it. Along with some other things like the soundtrack, cards, posters, etc. There's two things we find hilarious about this. The first is that no new news about the game is coming out until Farm Con 2021 in July (that's right, not a gaming event, a farming one), and the second is that the devs haven't even put a release date on the main game beyond "Q4 2021". So right now, we don't even know when you'll get this. You can read more about the additions to the game below as we wait to see when we'll even see the game.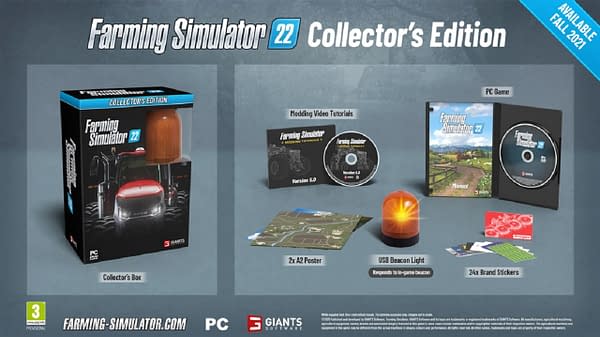 A new economic layer is added to Farming Simulator 22 by introducing production chains. Players can deliver their harvested crops to various shops and businesses for processing. The grain mill, for example, can now produce flour to be delivered to the bakery, starting a lucrative chain of production resulting in fine bread or delicious cake. Depending on the goods the players want to produce, they must provide the respective factory with multiple resources, like butter or sugar, first. After the production of sellable goods, players are able to further distribute them to points of sale like the supermarket. While some are already present, the players can also build them themselves to expand their operations.

Farming Simulator 22 includes two new maps plus an updated alpine Erlengrat map. Inspired by the US Midwest region, the now revealed Elmcreek offers players large fields and vast open space to build their farms on. Virtual farmers can look forward to numerous fields with varying shapes and sizes, authentically embedded in a scenic US landscape. The authentic out-of-town setting features rivers and underpasses in hilly areas, a gushing waterfall and a proper highway surrounded by a Baseball Stadium, huge grain silos, a gas station and other buildings shaping the skyline visible from the players' expanding farmlands.