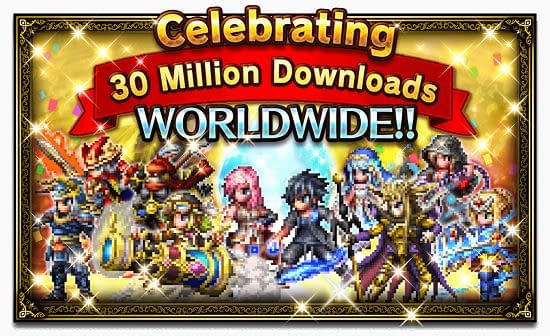 Free-to-play Mobile RPG Final Fantasy Brave Exvius has hit the 30 million downloads mark worldwide, and to celebrate, players can participate in a bunch of in-game events and activities for a chance to take home some awesome prizes.
The new "30 Million Downloads Raffle" will be available starting March 22nd and is open to all players. Anyone who completes the questline before March 31st will be entered into a drawing to win up to 1,000,000 lapis.
The full list of prizes includes:
One lucky first place winner will win 1,000,000 lapis
10 second place winners will win 100,000 lapis
20 third place winners will win 50,000 lapis
30 fourth place winners will win 30,000 lapis
26,100 fifth place winners will win 1,000 lapis
Players will also have an opportunity to receive free in-game prizes throughout the month, including:
30 Million Downloads Celebration Free Summon – From today until 

March 19th

, players can summon on a special banner once daily for free. Additionally, players who login between 

March 2nd and March 30th

 will receive a free 10+1 Summon Ticket, equaling to a total of 30 free summons throughout the campaign.
Special 30 Million Downloads Celebratory Summon Banner – Players can receive a special Free Daily 30 Million Downloads Celebration Ticket once daily from 

March 22nd through April 4th 

by logging into the game. The summon gives players access to two characters and one 5% character-specific trust moogle.
So if you've been looking for a reason to boot FFBE back up again, there's not going to be a better time than now.
Final Fantasy Brave Exvius is available for download from theApp Store, Google Play and the Amazon App Store. And if that isn't enough Brave Exvius for you, you can also download the free Facebook spinoff game, FFBE Tap which is horribly addictive.
Enjoyed this article? Share it!