Game Of Thrones Actors Reunite To Play At D&D Live 2020
We're going to be getting a Game Of Thrones reunion of sorts this month as several cast members will be on D&D Live 2020. According to Wizards of the Coast, they will be holding a special stream in the middle of the event called D&D's Cast of Thrones, which will feature Daniel Portman (Podrick Payne), Gemma Whelan (Yara Greyjoy), Iwan Rheon (Ramsay Bolton), Kristian Nairn (Hodor) and Natalia Tena (Osha). All of whom will be DM'd by Acquisitions Incorporated/WotC's Kate Welch. The story for the game is that "a group of heroes that meet an unusual creature that sets them on a strange task. Seems simple enough–but in a realm legendary for its danger, all is not what it seems." This is one of the first big reunions to happen involving several members of the cast since the show ended last year. You can check out a trailer for the new addition below, as this will take place on June 20th at 12pm PT. The full stream will run from June 18th-20th on YouTube and Twitch, with the event supporting Red Nose Day.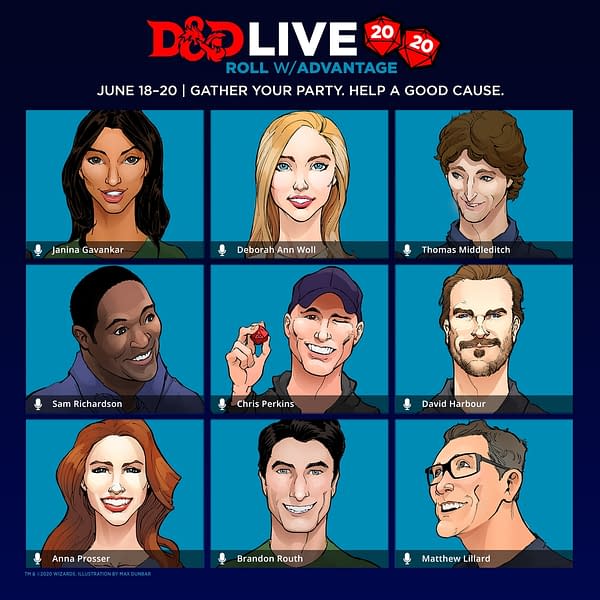 People all over the world continue to stay safe by staying home, but that doesn't mean the adventuring has to stop. Dungeons & Dragons provides a unique opportunity to adventure with friends without leaving your front door. Help celebrate that spirit of togetherness this year at D&D Live 2020: Roll w/ Advantage. We're bringing D&D's brightest stars to this virtual table to preview the latest D&D storyline with live gaming sessions, all while raising money for Red Nose Day to help children affected by the COVID-19 outbreak. Watch live as big personalities play elves, wizards, and fighters and embark on epic quests!

Funny people like Thomas Middleditch, Brian Posehn, and Kevin Sussman will work together to solve problems or, more likely, cause some hilarious new ones.
WWE Superstars Alexa Bliss, Tyler Breeze, Dio Maddin, Ember Moon, and Xavier Woods will contend with the beefcake destroyer Jeremy Crawford, a.k.a. Principal Rules Designer for D&D.
Deborah Ann Woll will lead a group of actors—including Amy Acker, Janina Gavankar, and Matthew Lillard, and Sam Richardson—in improvising a way to help people in a fantasy world not that different from ours.
And principal D&D writer Chris Perkins takes players new to D&D—including Felicia Day, Brett Gelman, David Harbour, Brandon Routh, Maitreyi Ramakrishnan, and Martin Starr—through adventures sure to de-mystify the hobby for all who tune in.