Games Workshop Brings Stompy Cool Ambot to Necromunda!
Necromunda players have been seeing Ambots as an option for their warbands since Gangs of the Underhive was released, but now we're about to see these brutal killing machines in person. Gaze upon the awesome might of the Ambot!
It's like an Ambull and one of those cargo-haulers from Aliens had a really cool looking baby. A big metal baby that can crush heads and sever arms Games Workshop style, sure, but the analogy stays!
Necromunda players can field an Ambot as a Brutes option. Not only that, but these incredibly versatile kits look like they will make for some fierce kit-bash options for regular Warhammer 40k armies!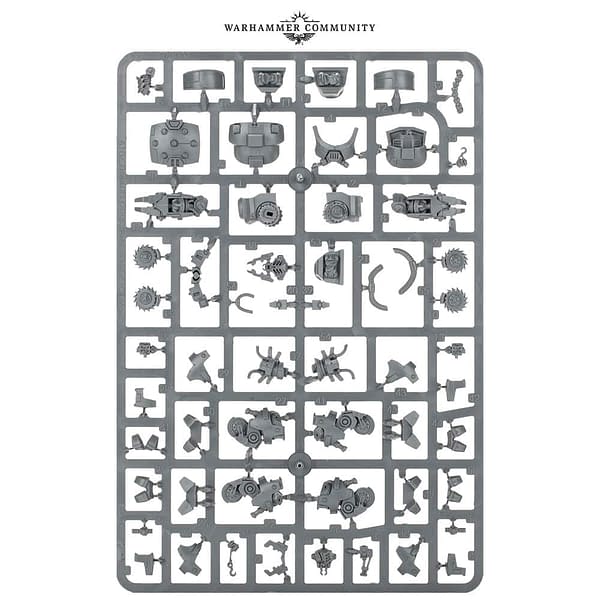 While we've previewed the Ambot before, we've not looked at the whole story. You see, while the models we've shown you are just an example of the Ambots you can build using the set. Delve into the sprues, and you'll find each Ambot can be posed differently – with a choice of head, too – meaning you'll be able to ensure each of these bionic bugs looks distinct from your others. What's more, if enormous tunnelling claws weren't deadly enough for you, you'll have the option to equip both with your choice of melta or grav weapons.

-Games Workshop
I'm seeing enough bits and bobs on that sprue that will make for an amazing Ork Warboss conversion, and I imagine Genestealer Cults players have some goodies they can pillage in there as well!
The Warhammer Community page has a great head-to-head battle report of the Ambot VS an Ambull, which also has the stats for these mechanical monsters if you want to see them in action!
The Ambot will be available in stores in early March, joining the Ork Shokkjump Dragsta and Kustom Boosta-blasta, which were only available in the Speed Freeks box set previously.