Games Workshop Teases New Pre-Orders For "Age Of Sigmar"
Since Games Workshop's release schedule is so closely-guarded, it's always hard to say exactly when the tabletop wargaming giant will release a new model box, a new book, or a new game system entirely. But today, we here at Bleeding Cool found out that Games Workshop is releasing three all-new Start Collecting! Boxes for their remarkable fantasy wargame, Warhammer: Age of Sigmar. This release also heralds the return of the Seraphon into the modernized, streamlined fray of Age of Sigmar with a new Battletome geared for the newer ruleset.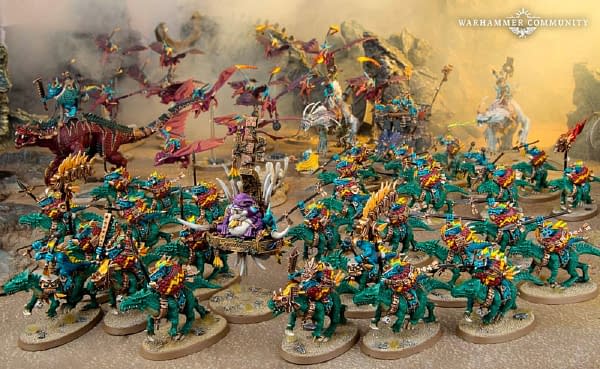 The Seraphon Battletome is not the only thing to come from the new wave of preorders, by a long shot. This preorder batch also contains a Start Collecting! boxed set for Skinks, a subset of Seraphon (who from the look of things may need a model revamp – does a lack of one mean something new is coming to Skinks, to Seraphon, or to Sigmar?).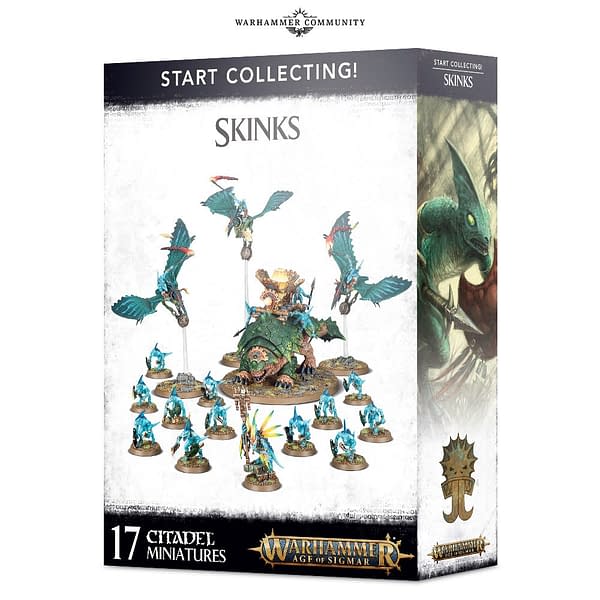 The Start Collecting! Skinks boxed set comes with twelve basic Skink warriors, a Skink Starpriest, three Terradon Riders, and an enormous and formidable Bastiladon.
As for the other Start Collecting! boxes, here's what we see from the Warhammer Community official news hub: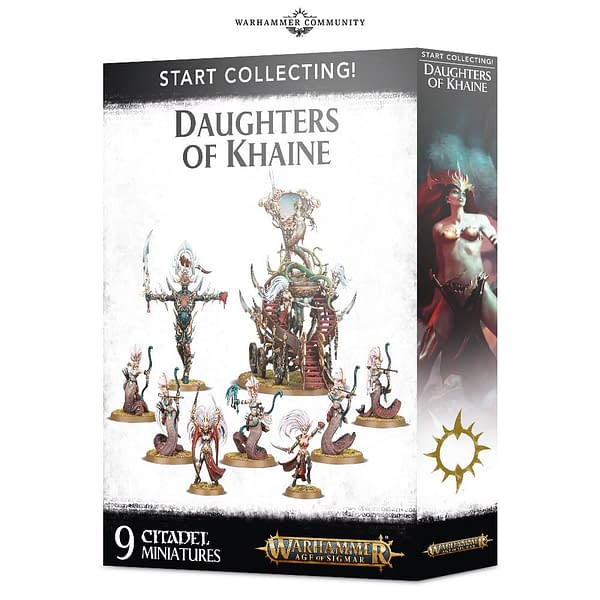 The Start Collecting! Daughters of Khaine boxed set comes with a small number of models overall – only nine come in the box – but given that information, they are probably, assumedly, more than capable of holding their own in waged warfare. The box comes with five Melusai Blood Stalkers (which can also be built as Blood Sisters), a Bloodwrack Shrine that can be built instead as a Cauldron of Blood, a Hag Queen, Slaughter Queen, Avatar of Khaine, and a Bloodwrack Medusa. The last four models (of which I think two are interchangeable so that number may actually be three – I don't know Daughters of Khaine very well yet, so please kindly don't quote me… Nine doesn't equal ten so the numbers oughtn't lie) are able to be placed on their own bases, or on the big centerpiece model, be it the Shrine or the Cauldron.
Finally, we have the Gloomspite Gitz!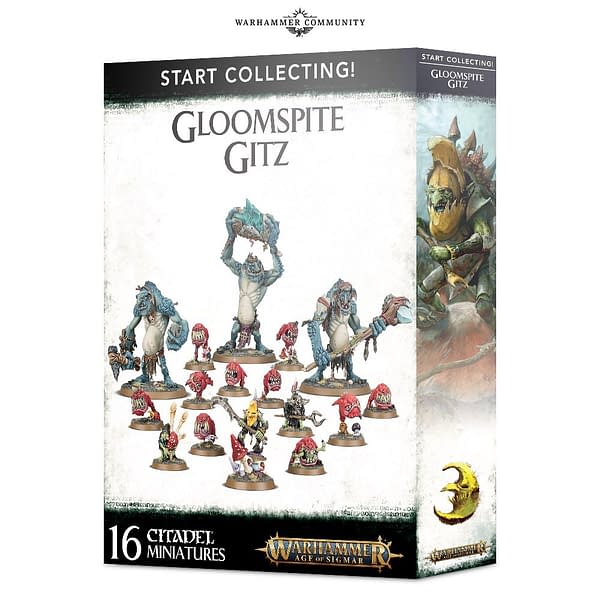 The Start Collecting! Gloomspite Gitz boxed set comes with sixteen models – that's mostly in Squigs, but that's to be expected with the Gitz anyway. In this box, we get ten Squigs, two Squig Herders, a Loonboss, and three Rockgut Troggoths. According to the Warhammer Community post, the Squigs and Troggoths have a ton of variant bits for changing up the style of your models. That's pretty cool if you ask me.
All in all, today was a good day for Games Workshop aficionados and fans of Warhammer: Age of Sigmar. What do you think of the new releases? Is their method of announcing new stuff a good way for Games Workshop to keep you vigilant? Let us know your thoughts!