Gears Of War: The Card Game Is Now Up For Pre-Order
You can now pre-order Gears Of War: The Card Game from Steamforged before the game officially comes out later this year.
---
Steamforged Games announced today that they have officially put Gears Of War: The Card Game up for pre-order. The company has been teasing this one for a while, and it looks like they're finally on track to release it with a tentative launch date of April 10th, 2023. They are currently selling the main game, which consists of 265 Cards, 15 Scenarios, and a full rulebook, as you can see from the image below. We got more info on the set below, as it's currently being sold for $35.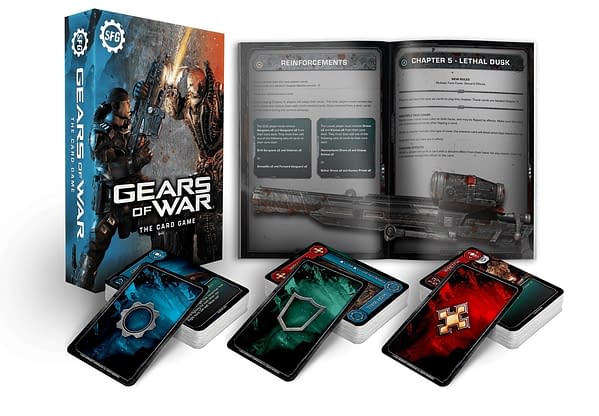 "Listen up, soldier! The world is in ruin. The Locust Horde has risen. It's Human vs. Horde, and here's your mission: Pick a side, build a powerful deck, and win the war. The fate of the world is in your hands! Experience the gritty gunplay of the video game in this official two-player card game. Take command of the COG forces or the Locust horde and seize control of the battlefield, one chapter at a time. Strategize your way through each chapter, bolstering your forces with classic characters like Marcus Fenix, General Raam, August "Cole Train" Cole, Dominic Santiago, and Damon Baird. Every battle counts."
"Will you side with the Coalition of Ordered Governments and send Marcus Fenix and Dominic Santiago into action, or will you command the Locust Horde and unleash the awesome power of the monstrous Brumak? Throw frag grenades at hordes of wretches? Or bait a corpser into attacking you before striking it when it's most vulnerable? Whatever happens in each chapter will change what comes next, so you'd better be ready to dominate. The deck you build and the decisions you make will change the way you play each campaign, making this a game you can reload time and time again. Whether you're a hardened vet or a grass-green rookie, get ready to take cover and lay down suppressive fire. Your enemies are trying to take the line, soldier. You'd better shove back hard."