Would you like to get in on Star Trek Online: Hose Divided? We got multiple codes to give away to people looking to jump into the game. The folks over at Perfect World sent us a bunch of codes to give away for both PS4 and Xbox One players who already have the game loaded up on their console. Which, we might add, is a totally free MMORPG, so the game already costs nothing. Specifically, the codes we have are for both consoles, as we have 5 Federation Fleet Admiral Faction Packs and 50 Federation Elite Starter Packons for each. These are totally free, first-come-first-serve to snag, down at the bottom. Each code can only be used once, you can only use one per copy of the game, and they have to be cashed in by using these instructions. You can read what's in all the packs below as the codes are all at the bottom. Best of luck!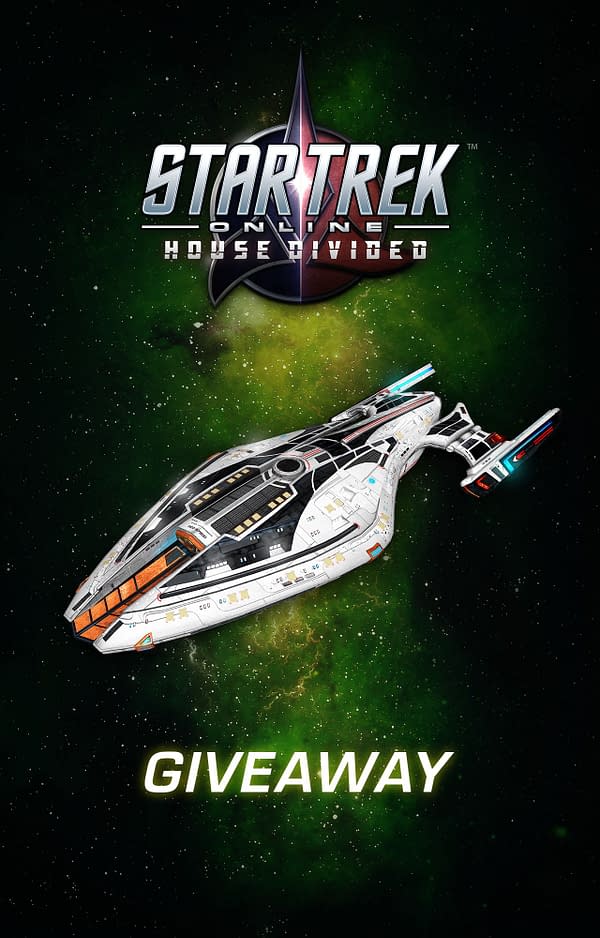 Star Trek Online: House Divided Federation Fleet Admiral Faction Pack

T6 Valiant (Escort Vessel)
T6 Andromeda (Cruiser Vessel)
T6 Pathfinder (Science Vessel)
2 Ship Slots
1 CaitianBridge Officer
Racing Uniform
1 Exocomp Pet
Title: Voyager
Title: Seeker
Title: Pathfinder

Valiant: The Tier 6 Valiant Class Tactical Escort is based upon the highly successful Defiant Class design. Unlike the Defiant, which was designed specifically to combat the Borg, the Valiant Class was built with the Federation's new enemies in mind. This vessel comes with the Valiant-class costume, and it enables a discount for purchasing its fleet variant. It can utilize the Pilot bridge officer powers and Pilot abilities.

Andromeda: This vessel is a heavily modified version of theGalaxy-class Exploration Cruiser. The Tier 6 vessel upgrades this class with the latest standard equipment used in the early 25th century.

Pathfinder: When planning first began for Operation Delta Rising, the Starfleet Corps of Engineers quickly realized that an updated version of thefamed Intrepid class would be essential for the mission's success. Most of the advanced technology used in the Pathfinder was first tested on the U.S.S. Voyager, which was completely updated before it departed for the Delta Quadrant. When Admiral Tuvok was satisfied with the ship's performance, work could begin to produce Pathfinders for the fleet. This vessel comes with the Pathfinder-class costume and it enables the discount for purchasing its fleet variant. It can utilize the Intelligence bridge officerpowers and Intelligence Abilities.

Federation Elite Starter Pack

T6 Reliant Class -Advanced Light Cruiser
12 Inventory Slots
12 Bank Slots
2 Bridge Officer Slots
1 Borg Bridge Officer
14 Mark II Very Rare Space Gear
7 Mark II Very Rare Ground Gear
Starfleet Academy Uniform

Reliant Ship: This modern version of the classic Miranda Class starship has been outfitted for high maneuverability, without sacrificing much in the way of the defensive and utility capabilities typically associated with Cruiser type vessels. This vessel comes with the Reliant-class costume, and it enables a discount when purchasing its fleet variant. It can utilize the Pilot bridge officer powers and Pilot abilities.
Star Trek Online: Hose Divided PS4 Federation Fleet Admiral Faction
GVAYFNYVET2E4HQ9HYP244K6
6WE6KPMMYRGZ4HQ9HZ6NNN2H
6REWUGQZXQZJ4HQ9J2KJAM9F
4ET9TTRKTVPV4HQ9J4AMN2KA
KXRWTJKEXNZE4HQ9J69QQFH6
Star Trek Online: Hose Divided PS4 Federation Elite Starter Packon
GZEZNKV6EVK24HQ9TY96KEHH
7ZXE2F2RM6EE4HQ9TZFKF7MF
7N2E6ENTU9XZ4HQ9U2AK7G6G
GWETZJAGE7NV4HQ9U4G44KGN
KQNQMMGRTYYE4HQ9U66AJQM9
74UEQAG7RRKK4HQ9U79APF6F
4E9PQ94JFZKW4HQ9U9KK6J9J
6NEA4AQE4UGU4HQ9UA7M7QGP
6TEMJWXZJEHP4HQ9UEM7E72F
GRG6UJVMEJYP4HQ9UFG22QG9
E6AWR6EJMWRG4HQ9UGJEFFH7
AEQHHEFZKEMY4HQ9UHH2K7KF
974JEWNETXTJ4HQ9UJ26ANKE
GXUNPHJFE2KX4HQ9UK7774QM
HEF9ERUK7EJ64HQ9UMKHEAKK
FVQM9QWE2YAM4HQ9UNM9QF67
7MKE2AJ2TP474HQ9UP794MA4
HWEJFVEAHEJ94HQ9UQHP4M7F
EPAUJAEPWYYH4HQ9URA97NNG
4EEHYYYUHRFF4HQ9UTF6FEA7
E2FX4RENTF9Z4HQ9UUJE2E7G
HA4HEUPMGEAP4HQ9UVMG6JM9
G26G9PZ4EU2P4HQ9UWAFHKHE
HNKTAEQ9FETK4HQ9UXF92NKK
6WEH4FGRV7AJ4HQ9UYEP6N2G
4EM2X4MQNWYU4HQ9UZ6FNGPP
4E72HGG7TEV44HQ9V2N97AE7
APYJ7ERWMER64HQ9V442KM7E
4E9ZZEQ4Z9QH4HQ9V6NQ4GFP
KGQPVUGJAMZE4HQ9V7J6727N
HXWJNNV2ZEVZ4HQ9V994N7NE
H2V7R426XET24HQ9VAMGEG67
7KAEAJZA6K624HQ9VEG4HK2Q
A2KPHEQPWHNT4HQ9VFNFFQPK
7UMEZ69F7PNN4HQ9VGJGEF62
EXJQR7EQ6FRM4HQ9VH9J6N46
KU69929V7K6E4HQ9VJJK7N24
FA7YZ2PE6RFF4HQ9VK46GFNH
JH7XN7UEVQEY4HQ9VM794922
ATVVHEV49FH64HQ9VNNAJJE2
HYZUVV4A2EHV4HQ9VP96QHFG
HM2VF79TAETQ4HQ9VQ7JAHKG
HZUTG9FJWEMU4HQ9VR666QJ7
FJWNHNGEA24X4HQ9VTEHMG29
HVHAJ9HAAE9Y4HQ9VUNAGGAM
HVJRT9KFGEK64HQ9VVGGFNMH
FR2WTFWEE4FW4HQ9VWAAHHQN
EHWGV9EKVZVK4HQ9VXHE7G4E
6XEWXWMFUEJ64HQ9VYANN4M4
4ETGZV2R67QE4HQ9VZEKHENP
Star Trek Online: Hose Divided Xbox Federation Fleet Admiral Faction
EMR2ATEN74Y94HQ9HTNAE9EM
J6E9XTQNQNEX4HQ9HUFAGNPE
EUJKVPEX77MJ4HQ9HVQQF264
7HVEQ74VQQQN4HQAJP9GMA6K
FH69TMMEZPJZ4HQAJQ2NAG7N
Star Trek Online: Hose Divided Xbox Federation Elite Starter Packon
E9ZJ4WEM2QQ64HQ9QUP67A69
9QRUEJ9RG4UE4HQ9QVA6JHEM
K7ZW2RX6AR9E4HQ9QWPG2GJJ
EJZ4PXEYAGMY4HQ9QX9A4KME
JUY2QNEVX9EH4HQ9QYNF44GJ
4EZ46PWJZ2KJ4HQ9QZEA4GA7
AJXAFEAHEZFN4HQ9R24NAH7Q
AAEM6EQKAAXJ4HQ9R4P42NA6
JK7WENQEAPEE4HQ9R6FANNQM
6VEF7QAAEYGZ4HQ9R72MP666
HZYVYRM2HEEH4HQ9R9NP2M92
AQ9UXEUK29X24HQ9RA7P2N6N
AAVPWETAMGKM4HQ9REEEH7PP
9YHWERPQAFTX4HQ9RFE9QH2G
A6UUXEUZFV794HQ9RG9JF4H7
9NEME2YKG7PG4HQ9RHPPGHKK
EVNX2REH6ZWA4HQ9RJJPPH9N
KH2A6N6QUYJE4HQ9RK247PK6
FMHVPZ7E7TAU4HQ9RM46M4PN
GYP2FUZNEGN44HQ9RNGNAFMP
JX2UN4NWJNEY4HQ9RPKE9GGJ
7QNE6XAEXGXX4HQ9RQ949EPA
9UPGETEQ4NT24HQ9RREHFEFM
GY6KGAV6E4EA4HQ9RTJ6EEMQ
76NE2ZQX7T7W4HQ9RUAKMH2J
FEG99ZAEPKVZ4HQ9RV9N7KPN
7Q4E9ER9P6924HQ9RWMHQMA2
9QTFEUEZ29RM4HQ9RXP7M4H6
HUZ4HFGM4ER44HQ9RY2EA2P7
G6P7F2XAEMPK4HQ9RZMEKE6Q
GX9THKGMEY6W4HQ9T2MM6EAF
FY6PQ99EMNPP4HQ9T4FNEAEM
ENJ9KNEAJ44Q4HQ9T649MENG
JJ2PHVRWPAEX4HQ9T7JAH2J6
6QEH2AYEXNNY4HQ9T9G26M76
7GRE6YPJ7EQH4HQ9TAAP7MFH
EE9MKNEA7KKP4HQ9TE6G27N9
79AE64QWQQ744HQ9TF7EK6KM
GAQ4GH9TEKVN4HQ9TG2EFAMP
FXGMF42E4RQQ4HQ9TH4HJAFH
4EPG7NQ9FYEH4HQ9TJPFG6N6
KRX7ZGWNUGKE4HQ9TKE72AEJ
6XERZUFAFNYP4HQ9TMMJ7AM2
FXZ64J7EZJMX4HQ9TNN47NQK
FNHYUT7EXHZU4HQ9TPAE4PPJ
GR2WYH6QEPM74HQ9TQKMHK47
6MENHAXVPGRU4HQ9TRJ4M7AH
AME2WEX2TXYG4HQ9TT7AFHMP
E9YF9VE2E6NV4HQ9TUMK4JE6
4ERHKGKUENEQ4HQ9TVJGQPPE
Enjoyed this article? Share it!