FoxNext Games announced this week that Marvel Strike Force would be getting a new update featuring Gravitron and Agent Coulson joining the fight. Along with both of their skills as a master of gravity and an agent with some backup, the game will be getting an upgrade to the A.I.M. units with some new dangerous foes. You can check out more below as well as see videos of them in action. The update will also change a few things on some characters and upgrade the game a bit.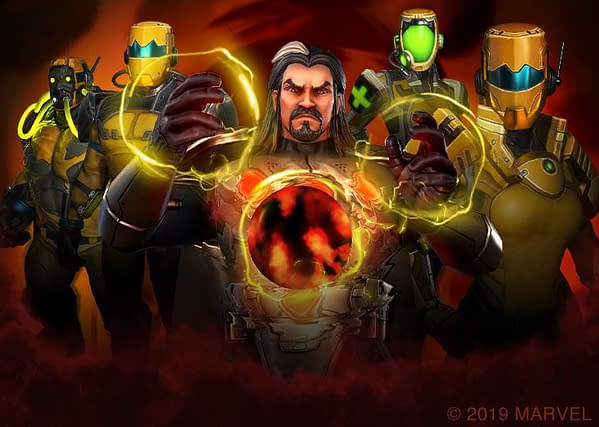 New Marvel characters joining the game in the coming weeks include:

Graviton, one of Strike Force's newest Controllers, can warp and manipulate gravity to inflict a lethal combination of Stuns and Slows onto enemies. After crippling enemy movements, Graviton finishes off opponents with damage that increases with every debuff on his enemy. In War, he'll halt the movement of the fastest enemy with speed bar reduction.

Agent Coulson, as the newest Agent of War, players can utilize Agent Coulson to assist fellow S.H.I.E.L.D. allies in Alliance War Defense and always revive's on S.H.I.E.L.D. Medic's heal.

In addition to the new Marvel characters, S.T.R.I.K.E. agents will also have access to a variety of newly reworked A.I.M. team members to assist their squads in battle, including:

Scientist Supreme, here to empower allies who have been inflicted with debuffs, this mad scientist will improve her teammates' ability to fight and boost their energy.

A.I.M. Infector: For every one of A.I.M. Infector's turns, players can transfer all his debuffs to enemies.

A.I.M. Monstrosity: A hard hitter who inflicts a debuff on himself in exchange for brutal strength. Monstrosity's attacks are always on target, and he can buff fellow A.I.M. allies with "Offense Up".

A.I.M. Security: Transfers negative effects from A.I.M. allies to enemy attackers when fighting alongside Scientist Supreme. Punishishes blocking enemies with a second strike that inflicts massive damage, while also healing fellow A.I.M allies.

A.I.M. Assaulter: Supercharges allies' speed bars and grants two positive effects to A.I.M. allies. Inflicts "Bleed" to enemies for two turns and performs a multi-hit attacks that increase with the number of debuffs.

A.I.M. Researcher: On Researcher's turn, players can grant an ally a random positive effect. Inflicts "Offense Down" to enemies and can heal the lowest health allies and surrounding units.
Enjoyed this article? Share it!